Reunion Weekend
Greetings to the NU Class of 1965
If you attended our 56th (postponed 55th) reunion you were treated to a fabulous weekend in Vermont. If you did not attend, you missed seeing 40 old friends (plus their guests) at several enjoyable functions. The early Fall weather was stunningly perfect with sunny days and cool dry air. We can tell you that the campus at our alma mater has never looked better. Every building was gleaming thanks to the efforts and leadership of our most recently retired President Richard Schneider. The students on campus are impressive too. A conversation with any student will reveal their inspiring aspirations and personal goals. The Cadet Corps is still the backbone of the Norwich campus,with a ratio of about 2 cadets to 1 civilian residential student(currently 1,170 Cadets and 466 Civilian).
On Thursday evening our classmate George "Muff" Handley,the goal tender of the 1965 hockey team as a "walk on" player,was inducted into the NU Athletic Hall of Fame. Although "Muff" was unable to attend, his good friend and former roommate, Joe Fiacco, another "walk on" player, stood in for him and delivered a thoughtful acceptance.
Friday was "check in" day at Plumley Armory. That is usually the first occasion to greet someone you haven't seen in a long time. Enthusiastic greetings of alumni were on full display throughout the day. Following the "check ins" were the Harmon Wall inductions and a Retreat Parade on the Upper ParadeGround.
Friday evening we gathered at Sugarbush Inn for drinks and a buffet. Regaling laughter was non-stop. The "catching up" with friends from years gone by was so enjoyable. Then, without any fanfare, NU's new President Mark Anarumo arrived with a small entourage. He stayed long enough to extend his sincere appreciation for our return and for our class's generosity. His delightful sense of humor was a surprise to many of us.
Saturday morning our class, along with all other reunion classes, formed up by their guidons outside Plumley Armory. Thealumni parade then proceeded to the football field passing in front of the Cadet Corps and family and friends. Each reunion class presented its gift to NU. Joel Kobert, Pete Dalrymple, and Larry Bailey delivered the oversized check in the amount of $775,000 from the Class of 1965, representing a 61% participation rate.
Saturday afternoon featured a football game between NU and Endicott College. It started out well with NU taking a 14-0 lead; but, the lead was squandered and NU lost 30-21.
Saturday evening was another social gathering that was held at Lareau Farm in Waitsfield. Our class had its own barn for drinks, and a menu which featured pizza from American Flatbreads' wood burning ovens. A great time, once again. Towards the end of our evening, we were treated to a talk from Bill Passalacqua, the interim and current Commandant of Cadets. Bill provided some interesting insights and factoidsabout Norwich over the past several decades. After a polite ovation for Bill Passalacqua, Bill Quinn chose to make some remarks. He asked our speaker to remember two things about our class. First, the Norwich patch and the headgear brass on the cadet uniforms were designed by our classmate Marty Suydam. Second, he wanted everyone to know that the Class of 1965 is known to be one of NU's most generous classes. Hefinished by holding up a list of the names of our deceased classmates (copy attached), and he asked us to remember them all. The evening ended with everyone starting to think about our 60th reunion in 2025, only 4 short years ahead.
Our class website www.Norwich1965.com is a great source of information. If you haven't yet visited, we encourage you to use it. We ask you to share information and photos by sending them to: [email protected]. If you use Facebook, please ask to join our Norwich1965 page. One more thing….Marty Suydam wrote a book about our time at NU, titled "Building Memories – Norwich University 1961-1965". It is a fun read, and it is available on Amazon
Acknowledgements
We tried to make it perfect, but we know it wasn't. 1. We missed an opportunity to have our class photo taken. It should have happened at the football field. 2. The menu on Saturday night was not to everyone's liking and understandably so. 3. We do encourage any attendee to give us feedback on what we could have done better.
The reunion committee wishes to acknowledge the work of Heather Socha, Director of Annual Giving. She was a huge contributor in making the reunion a success.
Sincerely,
THE REUNION COMMITTEE
Bill Quinn
Larry Bailey
Dave Anderson
Paul Mercer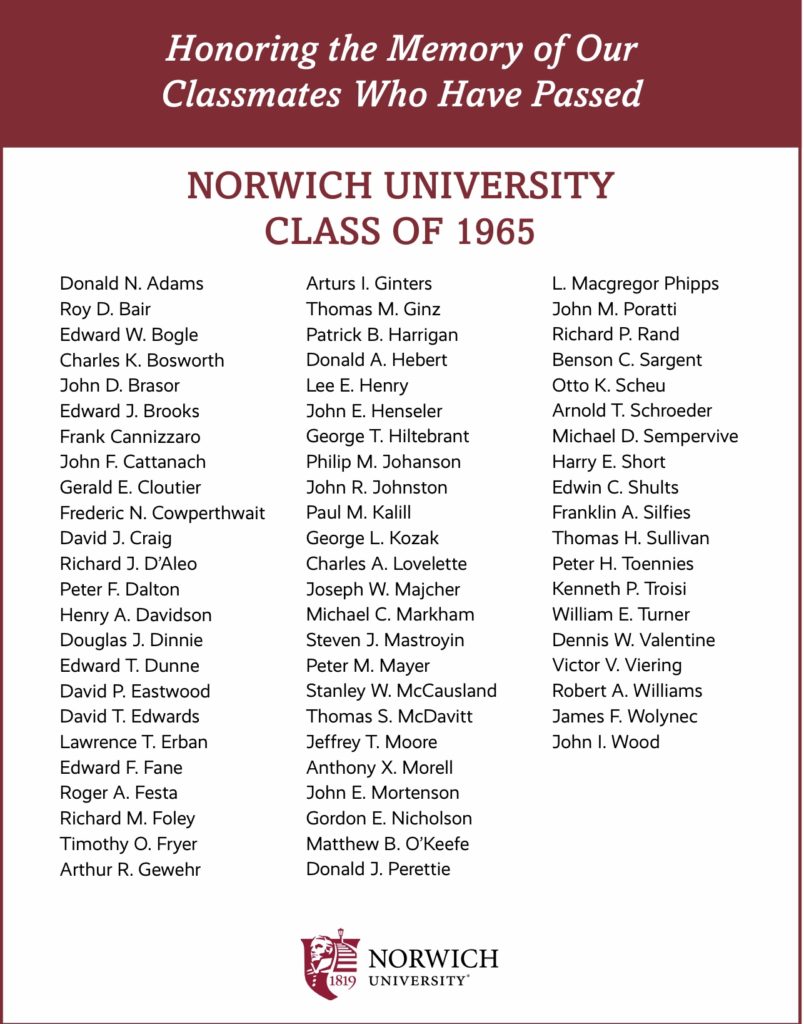 Please follow and like us: