We will memorialize our deceased classmates here. Please share any information you may have for a recent passing of a '65 classmate, or copy an obituary.
Joseph A. Dyson, Jr.
LTC (RET) Joseph A. Dyson, Jr., 78, of Radcliff, KY passed away Sunday, March 6, 2022 at Baptist Health Hardin, Elizabethtown, KY.
Mr. Dyson was a veteran of the Vietnam War. He served in the United States Army and retired LTC from United States Army Reserve, 100th Division MTC. His memberships include: Stovall United Methodist Church, Radcliff, KY, Past President of United Methodist Men, Camp Knox Lodge # 919 F&AM, Radcliff, KY. He received a BA degree from Norwich University, Northfield, Vermont and retried from Ameriprise with thirty years of service as a financial advisor.
He was preceded in death by his parents, Joseph & Doreen Dyson; and his father & mother in law, Wade & Doris Knott
Survivors include:
His loving wife of fifty-two years, Karen Dyson of Radcliff, KY; two children, William Scott Dyson, Andrea Diane Howard & her husband, John; six grandchildren, Mason Howard, Landree Howard, Cannon Howard, Rachel Dyson, Reed Dyson, Madelyn Kelso; one sister, Barbara Shea & her husband, Bob; and a host of extended family & friends.
Visitation will be from 4:00 PM until 8:00 PM, Wednesday, March 9, 2022 and from 12:00 PM until 2:00 PM, Thursday, March 10, 2022 at Chism Family Funeral Home, Vine Grove, KY.
Funeral services for Mr. Dyson will be held at 2:00 PM, Thursday, March 10, 2022 at the chapel of Chism Family Funeral Home, Vine Grove.
A graveside service with military honors will be held at 2:30 PM, Wednesday, March 23, 2022 at the Kentucky Veterans Cemetery Central, Radcliff, KY.
In lieu of flowers donations can be made to any favorite charity of choice.

Thomas J. Hawes   February 27, 2022
Colonel Thomas Joseph Hawes, U.S. Army, Retired, 78 of Louisville, Kentucky peacefully passed away on Sunday, February 27, 2022.  He was born February 6, 1944, in Chelsea, Massachusetts to the late Thomas M. Hawes and Mary C. (O'Hara)Hawes.  He was preceded in death by his beloved wife and son; Nancy Lee Hawes and LTC Thomas Michael Hawes.  Thomas is survived by his loving son and daughter-in-law, Steven Hawes and Missy Hawes of Louisville, Kentucky.  Daughter-in-law, Rebekah Hawes of San Antonio, Texas and five grandchildren, Kayla, Julia, Seth, Collin and Ethan Hawes.  He is also survived by his brother, Michael Hawes and his wife Chris of Detroit, Michigan; brother-in-law John Stomatuk and wife Joan of Marblehead, Massachusetts; and numerous nieces and nephews including, Michael and David Stomatuk.  
He grew up in Winthrop, Massachusetts and graduated from Norwich University, Northfield, Vermont in 1965 and received a Regular Army Commission as a Distinguished Military Graduate.  His civilian schooling includes a Bachelor of Science Degree in Engineering Management from Norwich University and a Master of Arts Degree in Educational Administration from Northeastern University, Boston, Massachusetts.  His military schooling includes the Signal Officer Basic and Advance Courses, Airborne Training, Command and General Staff College (1976), Joint Command Control, Communications Staff Officer Course at Armed Forces Staff College (1980), and the United States Army War College (1985).
Colonel Hawes had the honor of proudly serving this country for nearly forty-five years.  Thirty years as a U.S. Army Officer, and fifteen years as an Associate Executive Director for MITRE, a Department of Defense-funded, not for profit organization supporting the U.S. Army and Intelligence communities.  
Colonel Hawes was a combat veteran, having served two years in Vietnam. First, as a Communications Unit Commander supporting combat operations of the 1st Brigade 101st Airborne Division and the 1st Cavalry Division Airmobile. Second, as a Senior Communications Adviser to the Vietnamese National Police and Phoenix Program. Throughout his career, he served in numerous command and staff assignments at all organizational levels in both the United States and overseas.
Colonel Hawes was assigned to the Worldwide Military Command and Control Systems Engineering Organization Europe, Headquarters, United States European Command (USEUCOM).  On June 4, 1981, Colonel assumed command of the 52nd Signal Battalion, Stuttgart, Germany.  In June 1988, Colonel Hawes assumed the command of the 2nd Signal Brigade, 5th Signal Command, Mannheim, Germany.  He commanded the Brigade until December 13, 1990, when he was assigned to the White House Communications Agency as the Deputy Commander.  
On February 13, 1992, Colonel Hawes assumed command of the White House Communications Agency. In this position, he was responsible for providing all necessary communications support to the President of the United States in his role as Commander in Chief, Head of State, and Chief Executive. This included all voice, transmission, data, and audiovisual services. In addition, support was provided to the First Family, the Vice President, the United States Secret Service, the White House Staff, and National Security Council.  Colonel Hawes served President George H.W. Bush and President William J. Clinton until he retired from military service in 1995.  
Colonel Hawes' decorations include: the Legion of Merit with two Oak Leaf Clusters, Bronze Star with two Oak Leaf Clusters, the Meritorious Service Medal, the Army Commendation Medal with one Oak Leaf Cluster, the National Defense Service Medal, the Vietnam Campaign and Service Medals, the Parachute Badge, and the Presidential Service Badge.
Tom was a huge sports fan, passionately cheering on his beloved New England Patriots, Boston Bruins, and Boston Red Sox.  He was most proud of being "Poppop," never missing an opportunity to cheer on his grandkids from the sidelines.  Tom was an avid golfer at The Polo Fields Country Club and enjoyed time on the veranda with The PFMGA guys.  He cherished the many memories with his Army Family, told and untold.  Thomas Hawes was a great friend and role model.  He was a kind and humble man who thought the world of his family.    
Visitation will be 10:00am and funeral service 11:00am Friday, March 25, 2022, at Ratterman Funeral Home, 12900 Selbyville Road, Louisville, Kentucky, 40243 for family, the "Army Family" and close friends.  His final resting place will be at Cave Hill Cemetery in the outdoor Columbarium.   A Celebration of Life will take place from 6:00-10:00pm Saturday, March 26, 2022, at the Polo Fields Country Club, 17001 Polo Fields Lane, Louisville, Kentucky 40245.  All friends and family are invited to celebrate the life of a great man.  In lieu of flowers, memorial contributions may be donated to The ALS Association of Kentucky www.alsaky.org <http://www.alsaky.org> or Norwich University <https://alumni.norwich.edu/givenow>  in Colonel Hawes' honor.  

Charles Kosmaler      January 22,2022
Obituary not yet available
John Hurynowicz – – –    January 6, 2022
https://www.news-press.com/obituaries/fnp097831

John N. Gabriel
WORCESTER – John N. Gabriel, 78, of Worcester passed away following an illness on Sunday, November 21, 2021 in St. Vincent Hospital.
John was born in Lawrence, MA, graduated from The Manlius School in Manlius, NY and earned his BA in Business at Norwich University, in Northfield, VT, where he was also a member of the ROTC. Following college, he was commissioned as a Second Lieutenant in the US Army, and served in Korea from 1966 through 1968. He was discharged from active duty as a First Lieutenant, and retired as a Captain from the Army Reserve.
He was the son of Charles "Chick" Gabriel and Minnera (Hajjar) Gabriel. During college, he met and courted the late Martha J. Conway, of Langhorne, PA. They married in 1968 and stayed together happily until her death in 2020. John is survived by his son Charles "Chuck" Gabriel and daughter-in-law, Lauren Brandt, of Cambridge, MA, and leaves behind countless cousins and friends.
Following his active service, John worked as an insurance underwriter for Travelers Insurance for 25 years, and then at The Hanover Insurance Group for another 20 years until his retirement in 2018.
Throughout his life, John was an avid woodworker and handyman, building furniture, doing home renovations, and taking part in community projects such as building a playground in Merrimack, NH. He was also active in the Worcester Pistol & Rifle Club, and taught firearm safety courses there for many years.
Wherever he went, John was known for his friendly demeanor and upbeat attitude. He lived by the words "There's no time for that 'glass-half-empty' stuff. Don't wait around to have fun," and was truly a friend to everyone he met.
Family and friends are invited to join the Gabriel family for visiting hours from 3:00 to 5:00 PM on Sunday November 28, 2021 in the Miles Funeral Home, 1158 Main Street, Holden. A family burial will take place on Monday, November 29 in United Lebanese Cemetery, 50 Corbett Street, Lawrence, MA.
In lieu of flowers, contributions may be made in John's name to Disabled American Veterans Department of Massachusetts, State House Room 546, Boston MA 02133 or the Dana Farber Cancer Institute, P.O. Box 849168, Boston, MA 02284. Arrangements are under the direction of Philip G. Haddad, Jr., Miles Funeral Home, 1158 Main Street, Holden. www.milesfuneralhome.com
To send flowers or a memorial gift to the family of John N. Gabriel please visit our Sympathy Store.

Gordon "Skip" Nicholson

Gordon [Nick, Skip] Nicholson, 78, of Naples, FL passed away peacefully at Avow Hospice House on July 26, 2021, with his loving wife, Judi, at his side. Children and grandchildren were often attentively present during his final weeks and days.
Gordie was known for his love of family first, loyalty, kindness and love of country. His lifelong interest in tennis was evident in his USTA tournament play and coordination of tournaments both in Winchester, MA before retirement and in Naples, FL.
He attended Norwich University and Texas Tech University where chemistry degrees led him to a career at Polaroid Corporation in Cambridge, MA for over 30 years. Before he entered the business world, he served in The US Army reaching rank of Captain while serving his country as an advisor to the South Vietnam Army in Three Corps Vietnam in 1967. He earned the Bronze Star and Vietnamese Commendation Medal from the South Vietnamese Army for his dedication and work with infantry soldiers and their families.
Gordie continuously supported many interests in retirement including Norwich Alumnae, Tennis, Local Government at World Tennis Club but was most devoted to his 3 wonderful children and 5 grandchildren.
He is survived by his wife, Judi, of 38 years, his daughter Heidi Palma [Greg], son Ken Nicholson [Jennifer] of Westerly, RI, daughter Kate Tracy [Chris] of Framingham, MA and 5 special grandchildren, Emily Palma, Hannah and Sam Nicholson, Rylan and Lizzie Tracy.
Memorial Contributions can be made to the Veterans organization web site: WWCollier.org  Wounded Warriors of Collier County, 4851 Tamiami Trail No. 200, Naples, FL 34103.
To send sympathy gifts to the family or plant a tree in memory of Gordon E. Nicholson, please visit our tribute store.

Benson C. Sargent       July 7, 2021
Barre, VT – Benson Collins Sargent, 78, passed away peacefully from pancreatic cancer on Wednesday, July 7, 2021, at his home, surrounded by his wife of 56 years and his immediate family.
Benson's birthday home was on Terry Hill in Fairlee, where Benson enjoyed telling the story of how his older brothers advised him that, on his birthday, May 18, 1943, his Mom had been gone from home a week or 10 days and then suddenly returned with Benson (wrapped in baby blue swaddling clothes) with neither brother (five and ten years older) knowing exactly where their Mom had been, where Benson had come from, or how he had gotten there…. the Five and Dime, perhaps, or Montgomery Wards?
In the early days, Benson attended Fairlee Grammar School during warmer months and in the winter months, was schooled in the South and Southwest. His parents sought warm, dry air for his dad's asthma during winter months when few treatments existed for the disease during those years.
In 1961, Benson graduated from Bradford Academy where he was a 4-year letterman in baseball and golf and was elected president of his class for four years. Benson continued those sports into his adult life, but not before winning the Vermont American Legion Baseball Championship in 1960 with the Hartford, VT Legion. Benson loved his Red Sox and watched them play live from spring training in 1950's in Sarasota, FL through their four World Series wins in the new millennium. He also was an avid Norwich University Hockey fan and held season tickets at his alma mater for the last 20 straight years.
In 1965, Benson earned a BSCE Degree in Civil Engineering and was commissioned a 2nd-Lt in the U.S. Army at Norwich University. He made several Dean's Lists and trained in the Mountain and Cold Weather Training Program while demonstrating top-notch excellence on the rifle range at Ft. Devins ROTC Summer Camp. He was invited to join the 1st Army Rifle Team to compete against other Army Divisions that summer. Years later, Benson would return to Norwich and UVM to earn a Master of Engineering Degree in 1978 with emphasis on drinking water treatment and land application of wastewater.
A month after earning his BSCE, Benson and Pat exchanged marriage vows at the Fairlee Federated Church. It was their love of dancing that first attracted them to each other. Over the course of their 56-year marriage, Benson and Patricia were blessed with four children, two daughters and two sons. Then, suddenly, and quite tragically, their daughter, Kelly was called by our Lord Jesus within 24 hours at the age of seven, when Benson, Pat, and family resided in Barre.
After 25 years of Active Duty and Reserve Duty, Benson retired from the Army as a Lt-Col. During his active-duty years, he served in the Dominican Republic, then at Ft. Bragg, N.C., where he assumed a unit command of 200 soldiers, which provided transportation and equipment support for the cadets of the 3rd Army ROTC Summer Camp. His Army Reserve assignments were in Vermont and Virginia, including the Research and Development base at Ft. Belvoir, VA where he assisted in developing the (ROWPU) water treatment unit. This ROWPU unit was used in the Gulf Wars to convert salt water into fresh water used for laundry, showers, and bathing. After completion of his active-duty Army commitments, Benson pursued a professional, civilian career in environmental engineering. His years with Vermont's Environmental Conservation Department and Water Supply Division culminated in his rise to Deputy Director of Vermont's Water Supply Division. This period included his most productive years with Vermont's water supply program. Thus, the cry of VPIRG's "Frogs in the Faucet" by a northern Vermont town was replaced with a new well system for that town, and construction of some of the nation's most modern surface water treatment plants including ones in Readsboro, Rutland City, Barre City, and Bellows Falls, VT.
In 2001, upon retiring from the State of Vermont after 30 years, Benson was asked to join the U.S. Public Health Service as a Water Systems Engineer on the Navajo Reservation in New Mexico, where he built community-style water systems for ten years. Hands-on planning, project funding, design, and construction of Navajo community water systems for the Navajo people was the primary mission. Being invited by Navajo communities to join each celebration of completed new water projects was the major highlight of his Navajo experience. But perhaps his greatest Navajo reward was being honored with the Indian Health Service Director's Award in 2003 for "OUTSTANDING PERFORMANCE, DEDICATION, AND COMMITMENTS TO THE OVERALL MISSION OF THE INDIAN HEALTH SERVICE, UNITED STATES PUBLIC HEALTH SERVICE."
His commitment to community and worship extended to every residence from the Congregational Church of Barre to the Pinion Hills Church of Farmington, NM. Early in the Barre experience, Benson was a member of the Jr. Chamber of Commerce (Jaycees) where he served as a local director of the Barre Chapter. He was active in the Barre Cub and Boy Scouts of America and managed several Little League and Babe Ruth teams for Barre on which his sons played. He was also a member of the American Legion and the Bradford Academy Alumni Association. And for the past several years, he was a member of the Barre Flags for Veterans Committee, honoring veterans in Barre cemeteries. Other memberships and activities included the VT Society of Engineers; Registered Professional Engineers; the Native American Jewelry and Antiquities Association; the Country Club of Barre; the Early Ford V8 Club; alpine skiing; Western swing dancing; 4-wheeling the Rockies; raising raspberries and blueberries; and joining his grandchildren's recreational, family, and sporting activities.
Although Benson lead an active and accomplished life, he considered his greatest accomplishment as being a devoted father, loving husband, and beloved grandfather.
Survivors include his wife, Pat, who lovingly cared for him in recent months as his health declined; his three children, Beth Hoffman and her husband, Ry of Cabot, VT; Todd Sargent and his wife, Katia of Nassau, the Bahamas; and Chris Sargent and his partner, Deborah Kelly, of Chicago; his five grandchildren Camryn and Summer Hoffman of Cabot, VT; and Luka, Noelia, and Paulo Sargent of Nassau, the Bahamas; his two brothers Harold E. Sargent of Barre, with extended family; and Paul A. Sargent and his wife, Joan of Fairlee, with extended family.
In addition to his parents and grandparents, he was predeceased by his daughter Kelly, his nephew Mark Sargent, his sister-in-law Evelyn (Peggy) Sargent, and many aunts and uncles.
A Celebration of Life for friends and family will be held on Saturday, August 7, 2021, at 1:00 p.m. in the Barre Congregation Church, 35 Church Street, Barre. There are no calling hours.
In lieu of flowers, memorial contributions may be made to the Barre Opera House, PO Box 583, Barre, VT 05641 or to the Central Vermont Home Health and Hospice, 600 Granger Road, Barre, VT 05641.
Arrangements are by Hooker Whitcomb Funeral Home, 7 Academy Street, Barre. For a memorial guestbook, please visit www.hookerwhitcomb.com
George T. Hiltebrant – – – February 6, 2021
George T. Hiltebrant 78, of Old Forge passed away on February 6, 2021, with his family by his side. 
George was the Town of Webb Supervisor, a job that he truly enjoyed. He retired on December 31, 2001 after 25 years of dedicated service. 
Mr. Hiltebrant was a member of St. Bartholomew Church in Old Forge; he served as past President of the Thedara Golf Club. He also was a member of the Covey-Pashley American Legion Post 893 in Old Forge. George dedicated his life to serving his community. At the time of his death, he was a member of the Town of Webb UFSD Board of Education and Deputy Town Supervisor of the Town of Webb, while also serving on the board of the Home Aid Service of the Central Adirondacks (HASCA). 
During his free time, he enjoyed golfing at the Thendara Golf Club, but what he truly loved the most was the time that he spent with his adored grandchildren. 
He is survived by his two step-daughters, Michele Mitola and her husband John of Fairfield, CT, and Kristen Isele-Johnson and her husband Chad of Port Leyden, NY; he also leaves his adored grandsons, Willie and Charlie Mitola, Nicholas Isele and Joseph Etsen. George also leaves a sister, Suzanne Hanna and her husband Bob of Lake Placid, NY. He was predeceased by his mother Concetta (Tina) Schmalhoffer and his step-father Edward Schmalhoffer. 
Family and friends are invited to call on Thursday, February 11th, from 4:00 to 7:00 pm, at the Dimbleby Funeral Homes Inc., 128 Fern Ave., Old Forge. The Covey- Pashley American Legion Post # 893 will have a service at the funeral home on Thursday evening at 6:30 pm. Funeral services will be held on Friday, February 12th, at 10 am at St. Bartholomew Church, Old Forge, where a Mass of Christian Burial will be celebrated. Family and friends unable to attend may view the service online at Dimbleby Funeral Homes Inc. Facebook page. Interment with Military Honors will be in Riverview Cemetery in Old Forge in the Spring, followed by a celebration of George's life. For those attending calling hours we ask please for your patience when calling to support the Hiltebrant family. We are operating at 50 percent capacity we can allow up to 20 people in at one time as people exit more can enter. Facial masks must be worn, social distancing and contact tracing will be implemented at both the funeral home and the Church.  
George's family sends a special thank you to Dr. Thomas Socash and the staff of the Town of Webb Health Center and the Old Forge Ambulance for all of their assistance during this difficult time. 
Donations in George's memory can be made to HASCA at www.hascahomecare.org/donate.html, or to the charity of one's choice. 
For online expressions of sympathy, please go to www.dimblebyfh.com
John M. Poratti – – December 19, 2020
John Michael Poratti WILLISTON — John Michael Poratti, born June 6, 1942, in Barre, Vermont, died peacefully at his home Dec. 19, 2020. John was the son of Adamo and Arlene Poratti. Much of his life was defined by his Barre/Italian heritage and the fact that he was an only child. He collected "brothers" thru the years and some of his fondest memories were of time spent with lifelong friends. John was proud to be of Italian descent. He was a member of the Mutuo in Barre, Vermont, and like so many Barre-Italians, he was an avid mushroomer. John graduated from Spaulding High School in 1960 and Norwich University in 1965. He was commissioned as an officer in the United Sates Army and served from 1965-1967. He then returned to Vermont and started his professional career as a computer programmer at General Electric in Burlington, Vermont. John moved on to IBM in 1969 where he spent 25-plus years prior to retirement in 1995. Retirement for John allowed him to pursue other opportunities. He worked for IBM Canada; he became a consultant for IBM and spent time in Taiwan; he opened and ran an archery shop with his son, Chris – CJ Hunting & Fishing; and along with Chris, he purchased and renovated homes. John married Vicki George in 1964 and they celebrated 56 years together just days before his death. John's first love was his family, and the highlight of his life was being a father to Rob and Chris. He coached their Little League and basketball teams; they skied together; they built a hunting camp, hunted and fished together; and in later years, they worked together. John's building and repairing skills, his work ethic, and his love for the Boston Red Sox were all passed on to them and today, they mirror the man whom they called Pop. The arrival of grandchildren over the last 25 years filled his heart with joy and he was a proud Papa. John and Vicki found a winter home in New Smyrna Beach, Florida, and for 20 years, John was able to pursue his passion for golf in both Florida and Vermont. For many years, he was a member of the Champlain Country Club in St. Albans and more recently, a member and an Ambassador at the Links at Lang Farm in Essex. John is survived by his wife, Vicki Poratti; and his sons, Robert (Beth) of Westford and Christopher (Bambi) of Milton. He is also survived by grandchildren, Samantha, Jessica, John (Jack) and Alex Poratti; and Philip and Hannah Cohen (step-grandchildren). John was predeceased by his parents, Adamo and Arlene Poratti. If you would like to remember John, a donation in his name can be made to the Vermont Fish and Wildlife Department, Fish and Wildlife Trust Fund, 1 National Life Drive, Dewey Building, Montpelier, VT 05620-3208 – https://vtfishandwildlife.com/get-involved/donate/fish-and-wildlife-trust-fund. Due to COVID-19 restrictions, there will be no memorial service at this time. John's family will take him back home to his roots, he will rest eternally in Hope Cemetery in Barre. Arrangements are in care of the Ready Funeral & Cremation Service. To send online condolences to his family, please visit www.readyfuneral.com.
John E. Henseler – – November 27, 2020
John Edward Henseler entered the arms of His Lord and Savior Jesus Christ on November 27,2020, after a six month illness.
John was born on July 26, 1943 in Dumont, NJ. He loved spending his childhood summers at Lake Delaware Boys Camp. He graduated from Emerson High School and Norwich University.
John served with distinction in the US Army as a Combat Medic in the Vietnam War, earning a bronze star and a purple heart. John met Dolores Seiferling in 1970, married the love of his life in 1971, and raised their family in Randolph, NJ. John loved his career in banking, beginning as a teller before moving into mortgage origination at Morris County Savings Bank, Berkley Federal Savings Bank, and Columbia Savings Bank. Upon retiring, they moved to Virginia Beach, VA, where John enjoyed his final years overlooking his pool and frequenting Walmart. John loved Jesus and loved the local church. He was always involved in serving his church family and supporting initiatives to give more people hope in Jesus. John also loved spending time in Aruba, where he would get up at 4am to reserve chickie 54 to enjoy a bloody mary with his cronies from the "Rear View." John was generous with everyone, but it was ill advised to start a political conversation with him.
John passed away peacefully at Magnolia Manor, a wonderful support system which served him with excellence and compassion.
John was preceded in death by his father and mother, Roy and Tina Henseler of Morristown, NJ and his favorite dog, Mollie.
John is survived by his wife of 49 years, Dolores, daughter Janine Gordley and her husband, Matthew of Pittsburgh, PA, son Edward Henseler and his wife, Rebecca of Virginia Beach, VA, and Joseph Henseler and his wife, Karine of Allentown, PA, along with grandchildren Jack, Aidan, Noah, Alexandra, Caroline, Anderson, Wyatt, Shepard, and Cooper.
John is also survived by his twin brother, Dr. R. Alan Henseler and his wife, Nancy of Morristown NJ, sister Beverley Zigelman and her husband, David of Aiken, SC and loving nieces and nephews Lauren, Kimberly, Meredith, James, Christina, and Robert.
A memorial service to honor John's life will be planned at a future date.
Donations in honor of John can be made to Beach Beacon Baptist Church, 2301 Newstead Dr, Virginia Beach, VA 23454.
Peter F. Staiti – – – October 19, 2020

CARROLTON, GA – Peter F. Staiti, 78, passed away peacefully in Carrolton, GA on October 19,2020. He was the son of the late Fred and Lillian Staiti.
Peter was born in Boston, MA. Peter graduated with a Doctor of Jurisprudence degree from Boston College and a Bachelor of Arts, History from his beloved Norwich University. Peter had a vast professional background in law including several accreditations. Peter was a United States Army Judge advocate which included awards of the Meritorious Service Medal, Achievement Medal, and Commendation Medal with Oak Leaf Cluster. Peter's successes included Managing Attorney for Southeastern Massachusetts along with Senior Legal Mentor to the Deputy Minister of Defense in Afghanistan. Among all of his accomplishments throughout his life, the most memorable will be his warmth and kindness. Peter made lifelong friendships everywhere he went, whether personal or professional. That loss is ever-present in our lives today. Peter will always be remembered for being genuine, honest, generous, and always carrying an element of class lost in today's time.
Survivors include:  spouse Jean Staiti; daughters Sarah Staiti, Samantha Staiti-Ortiz, Laurel Staiti, predeceased step-daughter Lynne Gagnon McKenzie and son-in-law David McKenzie; sisters: Carol Stati and Vivian Gifford; Nieces: Andrea and Jennifer Gifford; grandchildren: Nicholas, Brenan, Casity, Chance and several nieces and grandchildren.
A service will be held in Massachusetts; however, attendance will be limited, and by invitation only during these trying times.
Paul M. Kalill — — — April 2020
WESTFIELD – Paul M. Kalill, 77, Attorney and three-time Springfield City Counselor, of Westfield, Massachusetts tragically passed away on Tuesday, April 7, 2020 from COVID-19. Paul held many titles and had a passion for education. He earned a bachelor's degree from Norwich University, a Juris Doctor degree from Suffolk University, a M.Ed in counseling psychology from Springfield College, and his PhD in forensic psychology from The Union Institute. Paul loved sharing his knowledge through teaching at various universities and guided many students to success. He practiced law at Kalill, Glasser and Associates in Springfield with his law partner and friend of 42 years, Gerald Glasser. In 2018, Kalill was honored for 50 years of service by the Hampden County Bar Association. Paul proudly served his country in the Vietnam War where he rose to the rank of Captain and undertook special assignments often alone in small villages. He was awarded a Bronze Star and other U.S. Army Commendations. He was a U.S. Land Reform Advisor in Vietnam and upon his return home, an advisor to President Jimmy Carter and other public office holders. Kalill was a proud democrat and an active figure in local, state, and federal politics. Born in Pittsfield, MA to immigrant parents, he was proud of his Lebanese heritage. Paul was a pillar in the Lebanese community and a member of St. Anthony's Maronite Catholic Church in Springfield. Paul was a man who loved to be in the company of family and friends, and they loved to be with him. His personality endeared him to all of them, and he was an extremely devoted and loyal husband, father and friend. Paul is survived by his wife, Allison Gearing-Kalill; his five children, Robert Kalill, Ann Wood, Peter Kalill, Ashley Gearing & Katherine Rose Kalill; three grandchildren, Sam, Gordon & Violet as well as many nephews, nieces, cousins; and his beloved pup, Coda. In lieu of flowers, the Kalill Scholarship Fund has been created by his family. Donations can be mailed to: Florence Savings Bank ,1010 Union Street, Suite E, West Springfield, MA 01089. Or online through paypal.me/KalillFund. For additional information, contact: kalillscholarship@gmail.com 
A Celebration of Life and Military Committal Service will be held and announced at a later date. St. Pierre – Phaneuf Springfield Chapels (413-737-1177) is assisting his family. For more details and online condolences, please visit: www.stpierrephaneuf.com 
Thomas H. Sullivan, Jr. – – – December 9, 2019
Gloucester, MA – Thomas (Sully) Henry Sullivan Jr., 77, husband of Susan E. (Dexter) Sullivan, of Gloucester Ma, passed away peacefully with his wife by his side, on Monday, December 9, 2019 at Seacoast Nursing & Rehabilitation Center. He was married to the love of his life for 53 years. 
Tom graduated from Gloucester High School; Class of 1961 and held the honor of Class President. He was a graduate of Norwich University, Class 1965; The Military College in Northfield Vt. and joined the United States Army. For his service in the Vietnam War, the U.S. Army awarded him both the Purple Heart & Bronze Star. Before retiring, he had successful careers with Xerox Corporation, Rochester, NY, Digital Equipment Corporation, Merrimack NH and Cape Ann Transportation Authority (CATA) in Gloucester. 
In addition to his wife Susan, he is survived by his three children Kerry Warzecha (Keith) of Glastonbury CT, Bridget Sullivan (Scott Sharp) of Westfield, IN and Tim Sullivan (Lee) of Las Vegas, NV. He has one adored grandson, Kyle Warzecha. They shared a passion for sports & loved bowling and watching European Soccer together. He will be greatly missed by his lifelong friends, Dave and Barbie Bader, with whom he & Sue spent most Sundays cheering on their favorite football team, the New England Patriots. 
He is also survived by his sister Frankie Nicastro (Philip); sisters and brother-in-law Steve and Dawn Dexter, Judith Dexter, Christina and Richard Rhodes, Kathleen Hurlburt, Rebecca and Francis Aliberte and Roberta Dexter. He has dozens of beloved nieces, nephews and many close friends. He was predeceased by his parents, Thomas and Bridget Sullivan; Mother and father-in-law, Harold and Eleanor Dexter, In-laws Norma Dexter, Arthur Hurlburt, Paul Dexter, Clark and Geraldine Dexter. 
The family is eternally grateful to the entire staff at Seacoast Nursing & Rehabilitation Center & Care Dimensions Hospice for the compassionate care they extended to our father during his time there. Contributions may be made in memory of Thomas H. Sullivan Jr, Friends of Seacoast @ SeaCoast Nursing & Rehabilitation Center, 292 Washington Street, Gloucester, MA 01930, who sponsored many programs enjoyed by both Tom & Sue. 
Joseph W. Majcher
— — — August 2019
Joseph W. Majcher, 75, of Williamsburg, VA, passed away on Friday August 23, 2019, after a long battle with Parkinson's disease. 
Joe was born on January 3, 1944 in Elizabeth, NJ to Walter and Helen Majcher. Joe received his Bachelor of Science in Business Administration degree from Norwich University in 1965, and his Master of Business Administration degree from The University of Baltimore in 1985.
Joe served in the Army during the Vietnam War from 1965 to 1967.
In his forties Joe enjoyed being a "weekend equestrian" and could be found competing at local events with his horse Caesar. Not to be limited one sport, Joe was an active member of the Peninsula Track Club, and enjoyed completing marathons into his late 60s. He was most proud of completing the Disney Goofy Challenge, an endurance event that consisted of running 39.3 miles over the course two days by completing a half-marathon and marathon in the same weekend. As "Coach Joe", he truly enjoyed sharing his love for running by training for races with friends while spreading the mantra of Jeff Galloway mixed with humor along the way.
Joe was preceded in death by his father Walter, and his mother Helen. He is survived by his wife Bunny, his daughter Arna, siblings Bobbi, Walt, and Bill, and nieces and nephews. The family extends their gratitude to Cheryl Winston for her caregiving support throughout the years. Per Joe's request, there will be no memorial service. In lieu of flowers, please consider a donation to The Michael J. Fox Foundation for Parkinson's Research.
James Frank Wolynec RUTLAND, VT — — — April 2019
James Frank Wolynec, 75, of Rutland, passed away peacefully in Jupiter, Florida, on April 18, 2019, from dementia. He was born on June 19, 1943, in Hackensack, New Jersey, and was raised in Montpelier. James graduated from Montpelier High School in 1961, Norwich University with a Bachelor of Arts in Education in 1965 and the University of Vermont with a Master of Arts in Teaching in 1966. He served as an officer in the U.S. Army in Baumholder, Germany, from 1967 to 1970. He was a dedicated guidance counselor and teacher who taught at Chester, Proctor, Fair Haven and Rutland high schools before retiring in 2005. During his time at Proctor, he also coached boys and girls basketball and boys golf. His 1971-'72 Boys Varsity Basketball team won the Division III Vermont State Championship. James was recognized as Vermont guidance counselor of the year and was a member of the Vermont Student Assistance Corporation Board. He was a longstanding member of Rutland Country Club and an enthusiastic horse racing fan. James was a deeply devoted husband and father. He is survived by his wife of over 52 years, Ardith Bousquet Wolynec; as well as three sons Gregory James Wolynec and wife Lisa Read Wolynec, of Clarksville, Tennessee, Scott Fredrick Wolynec and wife Gretchen Albright Wolynec, of Apex, North Carolina, and Stephen Andrew Wolynec, of Rutland. He is also survived by grandchildren Ashley, Kaitlyn, Taylor and Addison Wolynec, of Apex; and stepmother, Beatrice (Dee) Wolynec, of Palm Beach Gardens, Florida. He was predeceased by mother Emma Bredoli Wolynec, of Montpelier; father Frank James Wolynec, of Palm Beach Gardens; sister Gale Whittemore and husband Fredrick Whittemore, of Stratford, Connecticut. A memorial service will be held during the summer of 2019. A private committal service will be held in the Vermont Veterans Memorial Cemetery in Randolph Center. Donations may be made "In Honor of James Wolynec '65" to: Norwich University, Attn: Advancement Services/Gifts, 158 Harmon Drive, Northfield, VT 05663.
Kenneth Troisi — — — January 2019
DAYTONA BEACH, FL – Kenneth ("Ken") Troisi, 75, of Daytona Beach, Florida, passed peacefully in his home surrounded by love on January 3, 2019. He was born in Maynard, Massachusetts, son of the late Edward and Mary Troisi.
A resident of Daytona Beach for 38 years, Ken loved the ocean. He graduated from Norwich University in 1965 with a Bachelor of Science Degree in Education. He then served in the U.S. Army rising to the rank of major before retiring after 27 years. During his renowned army career, Ken received World Wide High Security Clearance, was a member of the General's staff and worked alongside U.S. Presidents. Ken later received his master's degree in mathematics and became a mathematics professor. He was a true entrepreneur serving as CEO and president of several companies including; All Florida Realty, K & T Toy Company, and Safe Water Company. Ken enjoyed the open waters owning several boats over the years. Through his life, Ken, had a strong love for sports and the outdoors. Ken was known for his intelligence, wisdom and his sense of humor (he loved to tell jokes and be a jokester). He played several instruments and his favorites were the harmonica and mouth harp. As all would attest, Ken was incredibly generous and throughout his life he spent countless hours helping others even helping others who had nothing. But most of all Ken was a friend to ALL. Father of Kim and her husband Chris of Sudbury, MA, and Kenneth and his wife Amy of Marathon, FL; step-father of James and his wife Debbie of Grovetown, GA, and Susan of Newberry, SC; grandfather of Mia, Drew, Max, Adelyn, Kai, Noelle, Kaysey, Jonah, Brandy, and Brittany; brother to Edward and his wife Janice of Sterling, MA; uncle to Michael; and great-uncle to Meghan and Merideth. A service of remembrance will be held Friday, January 18, 2019 at 11:00 AM at Our Lady of Lourdes Catholic Church, 1014 N. Halifax Avenue, Daytona Beach, FL 32118. Ken will be laid to rest in a private ceremony at Cape Canaveral National Cemetery in Florida. Those who wish to remember Ken in a special way may make gifts in his memory to the Wounded Warrior Project at woundedwarriorproject.org.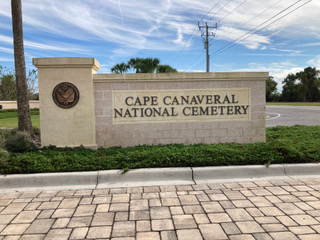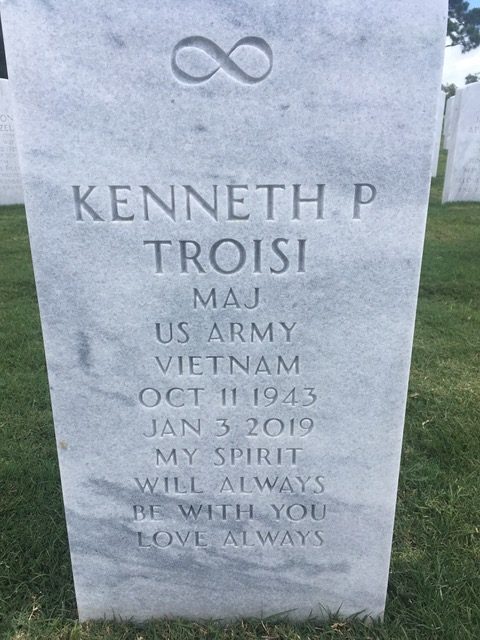 Robert J. Nuccitelli  – – December 8, 2017
Robert James Nuccitelli, 74, of Radcliff, KY, died Friday, December 8, 2017 at Markey Cancer Center, Lexington KY.

LTC Robert J. Nuccitelli retired from the US Army with 27 years of service, he had many decorations and awards. He served 2 years in Vietnam as a combat veteran and served 1 year in Korea.

He was preceded in death by his parents, Alexander and Catherine Nuccitelli; and his mother and father-in-law, Betty and Peter Butler.

He is survived by his wife of 52 years, Patricia Nuccitelli of Radcliff; daughter, Ann (John) Dunleavy of Ft. Eustis, VA and their four children, Meagen (Justin) Geller, Morgen Dunleavy, John Robert Dunleavy and Mary Katherine Dunleavy; a daughter, Elizabeth (Gregory) Jacobsen of Kailua, HI and their two children, Alexandra Jacobsen and Samantha Jacobsen; daughter, Audra Nuccitelli of Radcliff and her daughter, Jordan Nuccitelli; and a brother, Michael Nucctelli of New Paltz, NY.

The memorial service will be held at 11:00 a.m. on Wednesday, December 13, 2017 at St. Christopher Catholic Church, in Radcliff, KY with Rev. Jeffrey Hopper officiating. Burial will follow in Kentucky Veterans Cemetery Central in Radcliff with military honors.

A time of gathering will begin at 10:00 a.m. on Wednesday at the church.

Expressions of sympathy may take the form of contribution to: St. Christopher Catholic Church, 1225 S Wilson Rd, Radcliff, KY 40160.


Patrick B. Harrigan — — — February 2017
HARRIGAN, Patrick B. Mr. Patrick B. Harrigan, age 73 of Chattanooga, TN, formerly of Atlanta, passed away at his home on Wednesday, February 8, 2017. A funeral mass will be held 11 am Monday, February 13 at Our Lady of the Assumption Catholic Church. Interment will be in the mausoleum of Georgia Memorial Park Cemetery. Born in Schenectady, NY, he graduated from Norwich University. Mr. Harrigan served in the US Army and was stationed at Fort Knox, KY, before being discharged as a Captain. He was employed by GE in Schenectady as a manager of motor and generator service, Cleveland Electric in Atlanta as VP of sales and marketing, the IMS Group as president, and several other motor repair and sales companies in Georgia and Florida. He was known as a loving husband, father and "Bampa" to his wife, children and grandchildren, and was a devoted friend to many. Mr. Harrigan was a man of great integrity both personally and professionally. He is survived by his loving wife Lane Harrigan, son Tim (Donna) Harrigan of Smyrna, daughter Heather (Ben) Biggar of Overland Park, KS, sisters Helen (Mark) Levine of Long Island, NY, Kathy (Joe) Romeo of Reeders, PA, grandchildren Lindsey, Will and Logan Biggar, Nya and Cole Harrigan, nephew John Levine of Long Island, NY. In lieu of flowers, those who wish may make contributions to Norwich University 158 Harmon Dr. Northfield, VT 05663 or Hearth Hospice of Chattanooga Suite 7 1800 Rossville Ave Chattanooga, TN 37408. The family will receive friends from 10 -11 am Monday, February 13 at the church. Carmichael Funeral Home in Smyrna is in charge of arrangements.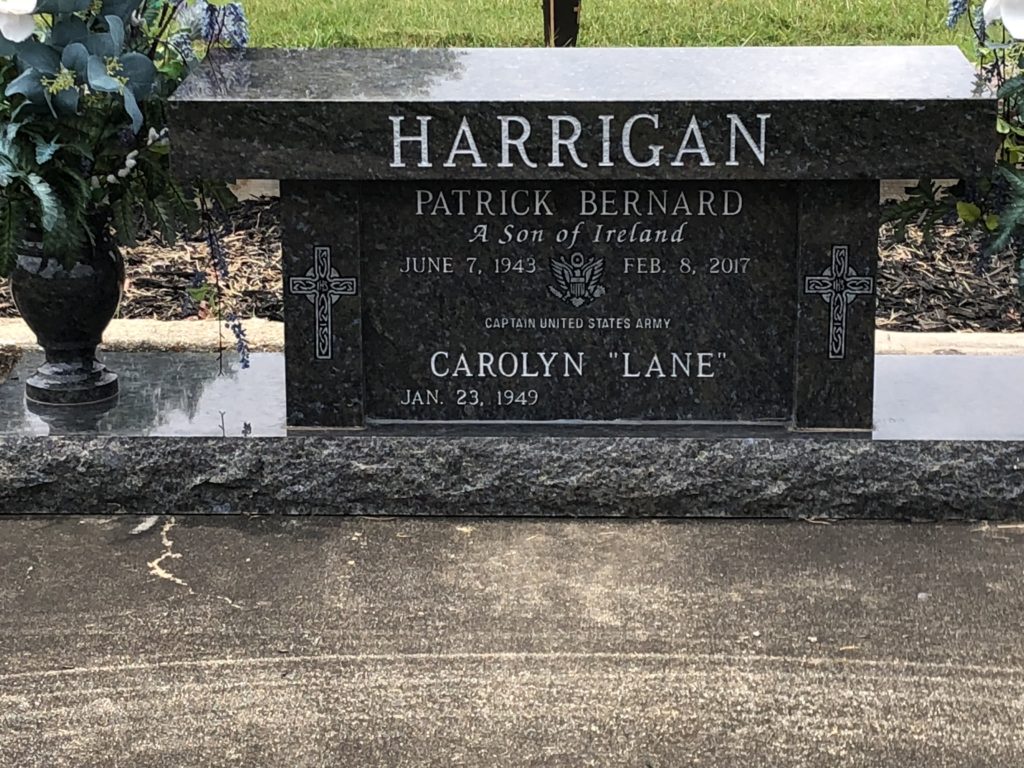 Otto K. Scheu — — — February 20, 2017
Otto Kurt Scheu SAUGERTIES-Otto Kurt Scheu, born on Sept. 29, 1943, passed away suddenly and peacefully on Feb. 20, 2017 in Florida while enjoying winter vacation. Born in Pittsfield, Mass., he was the son of German immigrants Otto Scheu and Gertrude Grotz Scheu. He was married to the love of his life, Hermine Keyser Scheu, for 33 and a half years. He loved family and they wed at the family reunion on Aug. 20, 1983. A lover of life, Otto was a truly giving, selfless man — always thinking about his dear Hermine and loved ones. He was happiest spending time with Hermine and being surrounded by his children and family. He freely expressed his love to family and was also devoted to his "twin" miniature schnauzers Wolfie and Junie. Otto was known for his warm and sunny personality, compassion, and his wonderful sense of humor. He loved to laugh and make others laugh, and his smile and kindness made people feel welcome. He enjoyed exploring the world on cruises and vacationing in Lake Placid, Fla.; playing cards with his sister; yard-saling and finding great bargains; and avidly collecting many things. Otto graduated from Onteora High School, class of 1961, earning a football scholarship to Norwich University (and was a fan of many sports throughout his life). He graduated from Norwich, class of 1965, with a Bachelors Degree in Mathematics and minor in Psychology. In college he served in the Army ROTC. He worked for the New York State Lottery for 12 years, retiring as Regional Manager in 2009. The lottery was his dream career, as he was happiest working with people. His previous jobs included working for IBM for many years, real estate, and doing sheet metal work with his father. Otto is survived by his beloved wife Hermine; daughter Katie Scheu and fiancé Christopher Cupernall; daughters Amy Bujak and companion Doug Longto, Lisa Scheu and companion Darrin Schechter, son Adam Scheu and companion Shannen Grundler, and Amy, Lisa, and Adam's mother Lorraine Kearney; granddaughters Britney, Kelsey, and Jenna Bujak and their father Donald Bujak; sisters Elsie Howe and Trudy Battaly; sisters-in-law Krista L. Keyser and Gina Pambianchi; cousins Karlyn Elia and Dick Duncan; in-laws Eric and Beth and Bill and Kathy Keyser; and many cousins, nieces, and nephews. He is predeceased by his parents. Entrusted to the care of Keyser Funeral & Cremation Service, 326 Albany Ave., Kingston, where friends and family may visit on Wed. March 1, from 5 p.m. to 8 p.m. The funeral will take place on Thurs., March 2, at 1 p.m. at the funeral home. In honor of Otto's joy for life, please feel welcome to wear colorful clothing to his services. In lieu of flowers, memorial contributions can be made to the American Kidney Fund (www.kidneyfund.org) and Catskill Animal Sanctuary (https://casanctuary.org). To leave an expression of sympathy, please visit www.KeyserFuneralService.com
Charles A. Lovelette — — — April 2017
Dr. Charles Alan Lovelette, age 74, of Columbus Ga, died Tuesday, April 11, 2017, at Columbus Medical Center.
Dr. Lovelette was born April 2, 1943, in Richford VT to the late Charles and Ruth Baine Lovelette. He was a Professor of Chemistry at Norwich University in Vermont and Columbus State University, Columbus GA. He was a veteran of the U.S. Army Corps of Engineers, serving in Vietnam, earning the Bronze Star Medal. Charles was an avid fly fisherman, learning the sport from his father as they fished the rivers of Vermont and Maine. He enjoyed running 5K competition races for charitable events and often placed first in his age-group. Charles was a graduate of Norwich University and Rensselaer Polytechnic Institute, where he earned a doctorate in Organic Chemistry. He will be missed dearly by family and students. He will be dearly missed by family, students, and the staff at Taylor County Health and Rehabilitation, where he resided since 2015.
He is survived by his wife, Leigh King Lovelette of Columbus; daughters, Rachel Lovelette of Columbus, Julianna Lovelette of Columbus, Kim (Russell) Walters of Sandown NH, and Jean Lovelette of Oakland CA; sons, Scott (Nora) Lovelette of Montpelier VT and David Joseph (Katie) Kaley of Opelika AL; sister, Lynnda (Jack, Jason & Megan, Kate, Sean/Sarah/Brian) Bliss of St. Albans Bay VT; Uncle Neal "Buddy"(Gloria) Lovelette; Aunt Louise Baine of Eastport, ME; many beloved Baine and Lovelette cousins; grandchildren, David and Maria Lovelette (Scott & Nora), David Joseph Jr, William, and Allyson Kaley (DJ &Katie); and former spouses, Frances Lovelette of Montpelier VT and Linda Kaley-Lovelette of Columbus GA. He also leaves behind a feisty and beloved Welsh corgi, Belle.
Private family services will be held at a later date in Vermont. In lieu of flowers, please make donations in Charles' memory to Trout Unlimited, the Nature Conservancy or the National Alzheimer's Association.
George L. Kozak
KOZAK, George L. 75, passed away on Sunday, July 2, 2017, at his home in Brockton. He was born April 24, 1942 in Norwood, MA to George L. and Veronica (Utorka) Kozak. He was the eldest of three children. George attended Norwood Public Schools and graduated from Norwood High School, where he played ice hockey. He attended the New Preparatory School in Cambridge and then went on to a great hockey career at Norwich University in Northfield, VT and also served in the Cadet Corps. After graduation from Norwich he took a teaching position at New Prep and was the Asst. Hockey Coach. His career included a scouting position with the New York Rangers, Asst. Coach and Director of Player Personnel with the Nashville Knights and the Pensacola Ice Pilots. He not only developed some hockey players but he served as their friend and mentor. He would teach them values and also nurturing them to be fine and responsible men. He had a special ability to help young men and women on the right path in life. His last career move was becoming a mathematics teacher at Brockton High School. He truly liked and cared about youngsters and those feelings were reciprocated. He had a generous heart that touched so many young people. He was honored by Norwich University in 2015 being named to the Athletic Sports Hall of Fame. He is survived by his sisters, Patricia Poore of Laconia, NH and Nancy Anchukaitis of Wrentham. Devoted longtime partner and love, Fran Flynn of Holbrook. Also uncle of Jennifer Cheesbrough, Haley Anchukaitis, Eric Poore, Christopher Poore, and Brett Anchukaitis. Brother in law of Tom Estes and Tony Anchukaitis. He loved all his nieces and nephews and was especially proud of Brett who graduated from Norwich University. George accomplished so much in his life and touched so many people with his guidance, support, kindness and love. In return, everyone loved Koze. 
Gerald E. Cloutier
 
 
 
Gerald Ernest Cloutier Jr., 73, of East Hampton, died Saturday July 29, 2017 at Hartford Hospital. Born March 7, 1944 in Worcester, MA, he was the son of the late Gerald and Bertha (Landry) Cloutier. Gerald was retired from The Hartford Insurance Co.after over 30 years of service, where he had worked as a Personal Lines Claims Analyst. Gerald moved to East Hampton in 1978 and he active in Cub Scouts and Boy Scouts troop 57 in East Hampton, he was a former member of the Board of Review for Eagle Scouts, he was a long time member of the NRA and enjoyed target shooting, he was a member of the Westbrook Elks Club and he also enjoyed playing set back and shooting pool. He is survived by his former wife Theresa A. (Jalbert) of East Hampton, his sons Gerald E. Cloutier III and his wife Kathleen of Marlborough, Paul A. Cloutier of East Hampton, former daughter-in-law Jennifer Kelley, and his two beloved grandchildren Kristiana and Evan. Friends may call at the Spencer Funeral Home 112 Main St. East Hampton on Thursday evening from 6PM until 8PM. Funeral services will be private at Notre Dame Cemetery in Worcester, MA. In lieu of flowers memorial donations may be made to the East Hampton Volunteer Fire Department 5 Barton Hill Rd. East Hampton, CT 06424. To leave online condolences please visit www.spencerfuneralhomeinc.com. 
Victor V. Viering, II — — — September 2017
Victor Vincent Viering, II, 73, of Canton, CT, beloved husband of Barbara (Molinari) died Monday, September 4, 2017 at St. Mary's Hospital in Waterbury. He was born October 22, 1943 in Hartford to the late Winfield Victor and Elaine (DeVoe) Viering. Victor graduated from Norwich University and served with distinction as a Captain of the U.S. Army during the war in Vietnam, where he was awarded a Bronze Star. In civilian life, Victor took pride in his work in restaurant management and as a Postal Service Supervisor and was an avid fan of UConn Women's Basketball.
Victor's fondest memories were of time spent with family and friends at West Hill Pond. He frequently reminisced about growing up at the lake with his siblings and cousins, learning boating, swimming, and sailing. He greatly enjoyed attending, and later hosting, the family picnics and celebrations and passing on his love of the outdoors and aquatics to his sons. Throughout his life, Victor was active in several community organizations, including the Boy Scouts of America with his three sons, marching in parades as a drummer with his local Shriner's lodge, supporting and participating in Jaycee and Freemason events and was a member of the Gildo Consolini VFW Post #3272 in Avon. He spent his retirement years in Florida by taking up golf and re-kindling his joy of sailing as a member of a local competitive remote-controlled sailing club.
He was predeceased by his brother Warren and his sister-in-law Carol. Victor is survived by his wife Barbara and three sons, Scott, Robert and Christopher; his brother George; his sister-in-law Judy and two granddaughters, Courtney and Christina.
Friends may call at the Vincent Funeral Home, 120 Albany Turnpike, on Friday, September 8, 2017 from 5:00 to 8:00 p.m. A memorial service will be held at the funeral home at 1:00 p.m. on Saturday, September 9, 2017. Burial with military honors will be private. In lieu of flowers, memorial donations may be made to your local scouting chapter or the Canton Historical Society at 11 Front Street, Canton, CT 06019. Please visit Victor's "Book of Memories" at www.vincentfuneralhome.com for online condolences.
Roy D. Bair
EAST MONTPELIER – On Jan. 11, 2017, Dr. Roy D. Bair of East Montpelier, Vermont, died at home peacefully from complications due to kidney failure. Roy spent his last two weeks under in-home hospice care surrounded by family. He is survived by his wife, Joanne; brothers James and Richard, of California; stepdaughter Sarah Bancroft, of Montpelier; son Daniel, daughter-in-law Leila and grandchildren Abigail, James and Josiah, of East Montpelier; son Douglas, daughter-in-law Charlotte and grandchildren Eliza and Jasper, of Melbourne, Australia; as well as three nephews and a niece.
Roy is best described as an honorable, fair, hard-working and humorous husband, father and grandfather.  
Roy Bair was born on Jan. 21, 1943, in Canton, Ohio, to Robert and Vera (Zwallen) Bair. They moved to Cranford, New Jersey, where he attended school, played varsity football and was compelled by a coach to meet with a Norwich University recruiter. In 1961, Roy entered the corps of cadets at Norwich University where he stayed and earned a B.S. in biology in 1965. He entered the Army Reserve in 1969, entered full military service in 1972 and was honorably discharged in 1980. Roy earned both an M.S. and a Ph.D. in biology from the University of Cincinnati in 1972. During this period, Roy married his first wife, Carol Shiffgen, of Cincinnati, Ohio, who died in 1974.
Roy moved to Vermont in 1973 to become a professor of biology at Norwich University, where he stayed until his full retirement in 2003.
In 1975, Roy Bair married his second wife, Joanne Hill, of East Montpelier, Vermont. A devoted husband and father, Roy lived on their East Montpelier farm property where he enjoyed working outdoors, in the garden and woods.
During his tenure at Norwich, Roy revised and developed biology curriculum and taught classes in cell biology, animal physiology, microbiology, parasitology, human anatomy and physiology, ecology, human biology, environmental biology, histology and general principles of biology. He served as a student advisor and served on many university committees.
Roy was a member of Sigma Xi, Beta-Beta-Beta, the International Union of Physiological Sciences, the American Society of Parasitologists and the Northeast Association of Advisors for the Health Professions. Roy Bair was a Vermont State Science Fair judge, Norwich University Partridge Society member and an unofficial member of the infamous class of 1965 panty raid (which did not happen).
Since its foundation, he was a supporter of the Martha B. Currie Scholarship for Nursing students at Norwich University. A proud and devoted Norwich alumnus, Roy was an avid NU Hockey fan and member of the Blue Line Club.
In the community, Roy was a Little League coach, spoke at several high school biology classes and donated scientific equipment to area elementary schools and high schools. He was an initial financial supporter of the Civic Center and served on the board of directors for the Adamant Cooperative store. He was vice president and president of the Vermont Kidney Association and a member of the Montpelier Cribbage League.
Roy was a member of the Adamant Methodist Church where he served on the administrative board, edited the bulletin, held the position of treasurer and was a general, all-around 'handyman'. He very much enjoyed singing in the Old West Church Christmas Eve Choir for over 20 years.
Most recently, Roy helped to establish the Peck Farm Orchard on the farm property where he began learning orchard management and pomology. His free time was spent in his wood workshop, where he handcrafted artistic cheese boards, boxes, heirloom toys and furniture for his friends and family.
Roy Bair was a humorous, generous, selfless, hard-working scientist, professor, husband, father, Christian, woodworker and exceptional Grampy. His late retirement was spent enjoying frequent rides through the woods and much joyful playing with his five grandkids. Roy was an unofficial surrogate father and mentor to many young men. Roy D. Bair will continue to be a plenary example of a hard-working, honorable family man.
In place of flowers, donations may be made to the Adamant United Methodist Church, P.O. Box 3, Adamant, or the Martha B. Currie Nursing Scholarship at Norwich University.
Arnold T. Schroeder — — — October 2015
Arnold T. Schroeder completed his earthly journey on Sunday, October 18, 2015, into the loving embrace of Jesus. He passed peacefully at Augusta Health, surrounded by family.
Arnold was a beloved husband, father and grandfather. Born and raised in Utica, New York, Arnold came to Waynesboro with General Electric and finished his career as a teacher at Stuart Hall. He was a graduate of Norwich University and a veteran of the U. S. Army.
He is survived by his wife of 50 years, Sharon, his sons: Patrick and his wife Maria; Kevin; Christopher and his wife Courtney. He was the proud grandfather of Maksim, Andrew and Abigail.
In lieu of flowers, please consider a donation in his name to The Samaritan's Purse.
A celebration of his life will be held on Friday, October 23, 2015 at 11 A.M.at the Church on the Hill, 100 Foursquare Lane, Fishersville, where he was a cherished member. Burial will follow at Augusta Memorial Park, where military honors will be provided by the American Legion Post 340.
Franklin A. Silfies — — — February 2015

WINDSOR – Franklin "Frank" Albert Silfies Sr., 71, of Ascutney Street in Windsor, VT, died on Tuesday, February 17, 2015, following a five-year battle with cancer.
He was born June 3, 1943, in Northampton, Pennsylvania, the son of Franklin H. and Salome (Keefer) Silfies.
Frank graduated from Norwich University in 1965 with a BA in English. He was Program Coordinator for Crisis Services at HCRS in Springfield, VT, where he had worked for 35 years. Frank was a member of the Ascutney Volunteer Fire Department where he served as President for several years. He also served as a part-time member of the Weathersfield Police Department and was director of the Weathersfield Ambulance Service. Well known to First Responders in Vermont and New Hampshire, Frank founded the Green Mountain Critical Incident Stress Management team. He was a core faculty member of the On-Site Academy in Worcester, MA, a Level Two member of the International Critical Incident Stress Foundation and an ICISF-approved trainer and serves as a civilian adviser to the Vermont State Police Membership Assistance Program. One of his favorite things was volunteering every year as an instructor at the North Country Fire School in Alburgh, Vt. He was a remarkable man; brilliant, compassionate, generous, humble and a passionate observer of the human condition. Frank was a man who loved his God, his family and his country in that order. He was a recent member of the Greater Hartford United Church of Christ, but had been a 40+ year member of Ascutney Union Church.
His family includes his wife of 51 years, SallyAnn, one son, Christopher of Charlestown and his best friend Carol Goodwin; one daughter, Wendi and her husband Todd Curtis of Claremont; four grandsons, Cody Silfies of Burlington; Craig Curtis of Claremont; Randy Curtis of Springfield; and Noah Curtis of Claremont; three granddaughters, Taylor Silfies and Kelsey Silfies of Virginia Beach, VA and Zo Curtis of Claremont; and one great-grandson, Kobie Curtis of Claremont and Shelby Packard-Lowery of Charlestown who considered him to be her second dad.
He was predeceased by his brother, William; his oldest son, Frank Silfies, Jr. and his beloved granddaughter, Scotlynn Silfies.
A Celebration of his life will be held on Saturday, February 28 at 11:00 a.m. at the Greater Hartford United Church of Christ on Route 14 in Hartford Village. Hospice Chaplain Constance Moser will officiate. Visiting hours will be held at the Church from 5 to 7 p.m. Friday evening February 27th.
In lieu of flowers, donations may be made to Greater Hartford United Church of Christ or Ascutney Volunteer Fire Department. Arrangements are with the Stringer Funeral Home & Crematorium, 146 Broad Street, Claremont, NH.
Edward T. Dunne Jan. 5, 2015.
Edward was a 1961 graduate of Poly Prep, Brooklyn, NY and later served on their Board of Trustees. He was a 1965 graduate of Norwich University, Northfield, VT, where he received an AB and a commission in the U.S. Army. He served as the Adjutant, US Army Garrison, Fort Polk, LA from 1967-1969 and later became a member of Norwich University's Board of Fellows. Mr. Dunne attended the NYU Graduate School of Public Administration, New England School of Law and the Securities Industry Institute at the Wharton School, University of Pennsylvania. Edward had a distinguished career on Wall Street and lectured on the securities industry at a number of graduate schools. Most recently, he served as a Managing Director at Willowbridge Associates, Plainsboro, NJ. He will be sadly missed by his colleagues, family and friends.
His parents, Edward T. Dunne, Sr. and Kathryn Nicholson Dunne, predeceased him. Surviving are his devoted wife of 47 years, Gail; his son, Brendan and his wife Nicole; two daughters, Meredith and Tara; his sister, Lucille and her husband, Sean and daughter, Katie; his grandchildren and "granddogs".
The family will receive relatives and friends from 2 to 4 p.m. and 7 to 9 p.m. Thursday, Jan. 8, 2015 at the Evergreen Memorial Funeral Home, 1735 Route 35, Middletown. The mass of Christian burial will be offered at 10:30 a.m. Friday, Jan. 9, 2015 at St. Benedict Catholic Church, 165 Bethany Road, Holmdel. The Mausoleum Entombment will follow at Holmdel Cemetery. Condolences may be sent to the family by visiting www.evergreenmemorialfuneral home.com.
David T. Edwards          12/1/2013
David T. "Stretch" Edwards, 71, of Bedford, Mass., passed away on December 1, 2013. Stretch graduated from Norwich University in 1965 with a Bachelor of Science in Business. While at Norwich, Stretch was a member of the Drill Team, Mountain Cold Weather, the Outing Club, the Skiing Team, the War Whoop staff, and the Junior Weekend Committee. 
For the past few years, Stretch had a group of Norwich friends who visited him at the Bedford VA hospital on the first Tuesday of every month. During their most recent visit in October, they honored Stretch with the presentation of a commemorative brick for the new Army Museum being built at Fort Belvoir in Virginia.
Harmon Wall Commemoration
David T. Edwards, or commonly known as 'Stretch' (being 6' 4"), was a true citizen-soldier. Hailing from Sherborn, MA, Stretch graduated from Norwich University in 1965 with a BS in Business Administration. During his tenure at Norwich, he participated in Mountain and Cold Weather training, Drill Team, Junior Week Committee, the War Whoop yearbook, Ski Team and ROTC Flight Training. He was famous for his great humor, college pranks and skits often performed with his longtime friend and roommate Bill 'Buddha' Colman.
After graduation, Dave completed Armor Officer training at Ft. Knox and then helicopter flight training at Fort Wolters and Fort Rucker. In 1967, he was deployed to Vietnam and was assigned to the 1st Cavalry Division where he flew the OH-13 scout aircraft (reconnaissance) and later UH-1D 'Huey' aircraft.  He logged over 700 hours of combat missions and was awarded the Distinguished Flying Cross, Bronze Star and sixteen air medals. He served heroically and bravely whatever the mission.  As his commanding officer stated "he is a mature professional who can accomplish any flight assignment for which he has been trained. He never loses his composure, becomes irritable or makes rash decisions under stress."  Stretch survived three crashes, being shot down twice and an engine failure during his last combat mission. He was severely injured in the crash and spent several months in Army hospitals in Japan and San Antonio.   During his hospital stay, he was diagnosed with Post Traumatic Stress Disorder or PTSD.
Upon discharge from the Army, Stretch married his college sweetheart, Sally Plimpton who he had met at Vermont College. They had two daughters; Laura and Rachael.  Life was good for a while but gradually over time David increasingly struggled with the devastating and disabling effects of depression that was PTSD.  
For the class of 1965, David's affliction with PTSD was our most severe case.   As in all conflicts, PTSD is a by product of the violence experienced in war.  A number of other classmates have lived lives with the unshakeable trauma of combat.   The good news is that in the past two decades the diagnosis and treatment of this terribleaffliction has improved considerably.  In 2014 the Sullivan Museum featured a PTSD display, "SomeSuffer So Much" detailing the current state of PTSD.   The display was dedicated to David.
For many years David experienced severe bouts ofdepression and would spend weeks convalescing at McLean Hospital in Belmont.   In 2003, he became a permanent patient at the VA hospital in Bedford.   Soon after several of his classmates started to visit him in the hospital. These individual visits eventually became large monthly group visits known as "Tuesdays with Stretch". He grew to love these visits and would be waiting for hours each month for the 'guys' to arrive. These events became luncheons noted for pizza, subs, soda, ice cream, and cookies.  The Norwich Record eventually published an article describing them in the fall of 2012.  
Stretch's condition deteriorated in late 2013 and he diedon December first.   He is survived by two daughters; Laura and Rachael plus his grandson, Ben.
We remember him as a patriot, father, great guy and classmate.
William E. Turner
William E. "Bill" Turner Jr., 71, of West Bridgewater died unexpectedly on May 11, 2013.. He was the son of the late William Sr. and Claire F. (Thoutte) Turner and grew up in West Bridgewater, Mass. He was a graduate of West Bridgewater High School and Worcester Academy. In 1965, Bill graduated from Norwich University with a Bachelor of Science in business. While at Norwich, he was a member of Alpha Kappa Psi, the Junior Weekend and Winter Carnival committees, and the Baseball and Football teams. He was a great baseball player growing up, playing both scholastically and semi-pro.
Bill married Elene on July 2, 1966, and the two raised their children in West Bridgewater. He started working for Turner Steel as a young child and became president in 1965. Bill worked tirelessly alongside his brothers, Carl and Kenneth, and son, Glenn, for many years and was always proud of the company they helped make so successful. After retiring in 2007, he spent more time with family and friends, gardening, traveling, and many other activities.
Bill loved staying active; whether it was getting breakfast at Pomeroy's or one of his most recent favorite coffee shops, serving on various boards in West Bridgewater, being a long-time trustee of the Caritas Good Samaritan Medical Center , or serving on the board at Pine Hill Cemetery, he loved staying involved. Despite never being shy about his opinion and wanting things done "the right way"; he always loved his family, Turner Steel, the community he lived in, and the friends he made along the way.
Bill was the loving husband of Elene (Wipperman) Turner; father of Laurie Turner-Curran, Michelle Fusco and her husband, Paul, Glenn Turner and his wife, Jennifer; "Papa" of Morgan, Jason, Nicole, Hutch, Jake, Gage, and Riley; and brother of Carl and Dale Turner and the late Kenneth Turner and his wife, Paula; and uncle of Stephen, Jennifer, Kathleen, and Andrea.
Harmon Wall Commemoration
Bill Turner died unexpectedly on May 11, 2013. He was the son of the late William Sr. and Claire F (Thoutle) Turner. He grew up in West Bridgewater, MA. Bill graduated from West Bridgewater High School, Worcester Academy and Norwich University, Class of 1965.
During his Norwich years, Bill demonstrated his dynamic leadership ability and exemplary performance in numerous activities. He was actively involved ; class officer for four years, cadet cadre, Honor Tank Platoon, Alpha Kappa Psi, Junior Week Committee, Class Honor Committee, Dean's list, football and baseball to name a few.  He really excelled in baseball and even played semi-pro. His positive contribution was well received in whatever endeavor he undertook. Bill graduated with a degree in Business Administration.
As a result of a medical profile, Bill was not able to serve in the armed forces so he turned his attention to the family business, Turner Steel. He was named president the fall of 1965 and held that position for five decades. Together with his brothers Carl, late brother Ken and later his son, Glenn, the business grew fivefold during his tenure (he retired in 2007).  The motto of Turner Steel is "Service is our Strength" and Bill trulypersonified this ideal. His service to his loving family, company, community and to Norwich was above reproach.  Bill's loyalty and generosity to Norwich was clearly demonstrated in his lifetime membership in the Partridge Society. 
After retirement, Bill loved staying active, whether it wasenjoying his grandchildren, playing golf, gardening or simply getting breakfast at one of his favorite coffee shops. He also served as a longtime trustee (29 years) of the Caritas Good Samaritan Medical Center, on the board of the Pine Hill Cemetery, plus several West Bridgewater committees.  Never being shy about his opinion and wanting to do things "the right way", Bill achieved great success however he really loved his family, Turner Steel, his community, his church, Norwich and the many friends he made along the way. With that twinkle in his eye, infectious smile and energetic personality, he could definitely win you over.
He is survived by his loving wife, Elene, two daughters, Laurie and Michelle and his son. Glenn plus seven grandchildren; Morgan, Jason, Nicole, Hutch, Jake, Gage and Riley.
Jeffrey T. Moore — — — February 2012
Jeffrey Thomas Moore, 69, of Burlington, Conn., died unexpectedly on Sunday, February 19, 2012, at his home.
Jeff was born December 11, 1942, in Norwich, Conn. He was the son of the late Dr. Simon H. Moore and Arline (Kosmaler) Moore. He had been a resident of Burlington for the past 34 years.
Jeff was a 1960 graduate of Cromwell High School. After graduation, he entered Norwich University with the Class of 1964. He graduated from Norwich in 1965 with a bachelors degree in government. While at Norwich, Jeff was a member of the Glee Club, Newman Club, Outing Club, Winter Carnival Committee, Junior Weekend Committee, and Skull and Swords.
Jeff served in the U.S. Army during the Vietnam era. Before his retirement, he worked as a staff representative/negotiator for the Connecticut Council 4/AFSCME. He was a member of the Burlington (Conn.) Historical Society, the American Motorcycle Club, and the Governor's Foot Guard. Jeff was an avid collector and dealer of antique toys.
Beside his wife, Jeanne (Prystash) Moore, he is survived by his sister, Susan Moore, of South Hadley, Mass.; his sister-in-law, Tammy Prystash, of Terryville, Conn.; his brother-in-law and sister-in-law, Bill and Joan Markovich of Terryville, Conn.; his nieces and nephews: Stan and Angela Valencis, Kirk Valencis, Tanya and Bryan Shea, Natasha and Scott Mendela, and Timothy Markovich; his great-nieces and great-nephews: Michael, Isaiah, and Gianna Valencis, Thomas Valencis, Madison and Ben Shea, and Nicholas, Lauren, and Tyler Mendela.
Funeral services were held on February 23, 2012. In lieu of flowers, contributions may be made to the Burlington Historical Society or the Burlington Library.
John E. Mortenson — — — July 2011
John E. Mortenson, 72, of Tiverton, R.I., died Friday, July 1, 2011, at his home. He was the husband of the late Wendy (McEntee) Mortenson. Born in Providence, R.I. on January 30, 1939, he was the son of the late Eric R. and Dora (Burke) Mortenson.
John was a graduate of East Providence High School and went on to receive his bachelor of arts in English from Norwich University in 1965. While at Norwich, he was a member of Flight Training, the hockey team, and the golf team.
He served as a helicopter pilot in the Army during the Vietnam War. He then served in the Army National Guard. John and his brother Eric were co-owners of the Eric R. Mortenson Company, a general contracting firm in Providence. He was a past member of the Wannamoisett Country Club in Rumford, Wanumetonomy Country Club and Montaup Country Club. Being an avid golfer, he enjoyed playing golf with his brother Eric at Pine Valley Country Club in Rehoboth.
He is survived his brothers, Eric R. Mortenson, Jr. (NU '55) of Barrington, R.I., and Gunnar Peter Mortenson of Camp Verde, Ariz. He also leaves a sister-in-law, Megan McEntee, of Lexington, Ky.; fifteen nieces and nephews; and several great nieces and nephews. John was the brother of the late Thelma R. Figueriedo, Norma J. Winsor, Greta J. O'Rourke and Elizabeth A. Wilkey.
Donald N. Adams
 
 
 
ADAMS, DONALD N.; age 69; July 31, 2011; of Grosse Ile. Beloved husband of the late Christina. Loving father of Jenifer (Mike) Henry, Valerie (Chris) Palazzolo; dearest grandfather of Duncan Henry, Cole Henry, Eve Palazzolo and Grace Palazzolo. Visitation Friday, from 1 to 9 p.m., Rosary 5 p.m., from the John Molnar Funeral Home, 23700 West Road, Brownstown. In State Saturday 9:30 a.m., until time of Mass 10 a.m., Sacred Heart Catholic Church, 21599 Parke Lane, Grosse Ile. 
www.molnarfuneralhome.com
Peter F. Dalton

Peter F. Dalton, 68, of Madison, Conn., passed away on May 24, 2011 at his home on Sanibel Island, Fl. after a long illness. 

Peter was born on November 10, 1942 in Cambridge, Mass., the son of Francis R. Dalton and Margaret Witham Dalton. He graduated from Norwich University in 1965 with a bachelor of science in business. While at Norwich, he was a member of the Newman Club, Mountain Cold Weather, the Winter Carnival Committee, the Outing Club, the baseball team, and Intramurals.

After graduating, Peter went on to serve in the United States Army as a platoon leader for the 11th Armored Calvary Regiment, A Troop, 1st Squadron during the Vietnam War and was honorably discharged as a captain in 1968. He was the recipient of the Purple Heart, two Bronze Stars, one with Valor, and the Vietnamese Silver Star. 

Peter was founder, CEO and co-owner of Dalton Enterprises, Inc. of Cheshire, Conn. with his son, John. Peter and Maureen were co-founders of the Madison Foundation and active members of the Madison Country Club and the Madison Beach Club, where Peter served as a Governor and distinguished member of the Finance Committee. Peter prided and distinguished himself among men as a coach and mentor to over hundreds of Madison youth during his career. He was a generous man of selfless standing whose sense of humor, love of family, and devotion to the Madison community became his trademark. His presence filled a room; his first concern was always for others and how they were. All who knew Peter will sorely miss him for his "Daltonism" sayings and charismatic personality. He left an indelible mark on all who knew and loved him, and it brings a smile to one's face and an ache to one's heart thinking about his passing.

Peter was the beloved husband of Maureen E. Dalton, and the proud father of John A. Dalton and his wife, Lindsay, Courtney Dalton Stephens and her husband, Graham, and Hadley Dalton Walsh and her husband, Jack. Peter leaves behind his first grandchild Henry Dalton Coles Stephens and was expecting his second grandchild "Baby Dalton" on June 18, 2011. He also leaves behind two sisters, Priscilla Singleton and Barbara Weston and their husbands, as well as 14 nieces and nephews, their spouses and 29 children. He leaves behind his loyal, loving business family and devoted employees. Peter was pre-deceased by his son Peter F. Dalton, Jr. in 1985. 

 
 
 
Steven J. Mastroyin — — — May 2011
Steven J. Mastroyin, 69, a lifelong resident of Springfield, Mass., passed away suddenly on May 23, 2011 at Baystate Medical Center in Springfield. Born and educated in Springfield, Steven was the son of the late Anastasios and Theognosia (Aidonopoulos) Mastroyin.
Steven was a 1959 graduate of Springfield Technical High School, and received a bachelor of science degree in civil engineering from Norwich University in 1965. While at Norwich, he was a member of the Eastern Orthodox Council, the American Society of Civil Engineers, the Society of American Military Engineers, Mountain Cold Weather, the Junior Week Committee, the Ring Committee, and the Outing Club. After graduating from Norwich, Steven attended Western New England College and received his MBA in 1973.
He was a construction supervisor with Dan O'Connell for seven years. After leaving O'Connell, he went to work for the federal government in the design and construction division. He retired after 35 years in 2009. He was a member of the Greek Orthodox Church of St. Luke, as well as a former president of the St. Luke's Parish Council. Steven was a very active member of the church, having received the Laity Award in 2007. This award honors those who have given generously of their time and talent to the church. He was always there to help whenever needed. The church was one of his many joys in life. He was also a devoted and proud father and husband. He was a gentle spirit with a large, loving heart.
Steven is survived by his beloved wife of 40 years, Mary C. (Ward) Mastroyin; his son, Steven J. Mastroyin of Providence, R.I.; three sisters, Mary Jones and her daughter, Alisa, of Atlanta, Ga., Thalia Baines and her daughter, Christine, of West Palm Beach, Fla., and Irene Zigoris and her husband, Dr. Mark Zigoris, and their son, Phillip, of Cincinnati, Ohio.
Funeral services were held Thursday, May 26, 2011 at the Greek Orthodox Church of St. Luke. Burial followed at Oak Grove Cemetery, Springfield, Mass. Memorial contributions in Steven's memory may be made to the Greek Orthodox Church of St. Luke, 400 Prospect St., East Longmeadow, MA 01028.
Roger A. Festa —-
May 9, 2010
Roger A. Festa, of Milton, GA, the president and founder of Landbank Development Corporation, passed away on Sunday, May 9, 2010. 
Roger was a loving husband and father and was a dedicated businessman who lived every minute of his life to the fullest. He was born in Waterbury, CT to the late Anthony and Concetta Tammaro Festa. He attended Norwich with the Class of 1965 where he was a member of the football and soccer teams, Drill Team, Outing Club, Newman Club, Student Pilots, and Mountain Cold Weather. He also worked for the Guidon. He graduated with a bachelor's in law and government and was the founder and past president of the Norwich University Alumni Club of Georgia. 
Roger attended the U.S. Army Ranger School and served as an officer in the U.S. Army in Vietnam where he received military decorations including the Vietnamese Cross for Gallantry with Palm, the Silver Star Medal for gallantry in action, the Air Medal, the Army Commendation Medal for Valor, the Bronze Star Medal for Valor, Presidential Unit Citations, the Combat Infantryman's Badge, and the Purple Heart. He was past vice president-secretary for the Home Builders Association of Georgia, past president of the North Fulton Chapter of Greater Atlanta Home Builders Association, and life director of the National Home Builders Association. He was past chairman of Fulton County Developers Advisory Council and past vice president and director of Community Housing Development Authority of Fulton County. Roger led a life of service to others through his professional career and gave his personal time and energy in leadership roles for many community activities. 
Roger is survived by his devoted wife of 22 years, Anna Young Festa; his two sons, Gregory Festa '98 and Dustin Tomlin '93; and his cherished aunts, Grayce Ruggiero and Rose Petronzi. 
In lieu of flowers, the family has requested that donations be made to the building fund of the Mount Paran Church of God, Atlanta, Georgia, which can be located here.
Edwin C. Shults — — — August 2009
Edwin C. Shults, Jr., "Bud", 66, of Burnt Hills, NY, died at his home on Wednesday, August 19, 2009.
Ed was born in Niskayuna, NY on October 30, 1942, son of the late Edwin C. Shults Sr. and Norma MacDonald Shults. Ed attended Norwich with the Class of 1965, where he graduated with a bachelor of arts in history and was an accomplished musician. While at Norwich, he was a member of the Glee Club, drill team, baseball team, and track.
Ed was an entrepreneur. He partnered with investors and built Glenridge Plaza in the early 1980s and operated Pasco Travel and The Flower Basket store. He was an avid sports enthusiast who taught his children to play sports and enjoy music. Ed formed several area bands including TRAVELERS where he specialized with his vocal ability and guitar and banjo playing. He taught all of his children how to play the piano.
Surviving him are two sons, Michael R. Shults and Christopher E. Shults; daughters, Erica C. Shults and Heidi E. Shults; and former wife, Pat Shults. He leaves behind three sisters, Kristen Kratzer and her husband, Larry, Suzy Silveri and her husband, Bill, and Judy Landry and her husband, Rudy; and one nephew, Dino Marinopoulos.
In lieu of flowers, memorial contributions may be sent to the Saratoga County Animal Shelter, 6010 County Farm Road, Ballston Spa, NY 12020.
Lee E. Henry — — — February 2009
Lee E. Henry, 66, of Medway, MA died on February 3, 2009 at the University of Massachusetts Medical Center in Worcester following a brief illness. He was the husband of Deanna L. (Aldrich) Henry.
Born in Cambridge, MA on November 5, 1943, he was the son of the late John and Shirley (Chester) Henry. Lee was raised in Westwood and had lived in Medway since 1967. Lee was a graduate of Westwood High School, Norwich University, and he also was a graduate of the University of Massachusetts with a master's degree. While at Norwich, Lee played on the hockey team and was a member of the German Club, Glee Club, chorus, and played for the regimental band. Lee served in the Army during the Vietnam War, attaining the rank of 1st lieutenant.
Lee had been the director of the Hyattsville, Maryland Department of Public Works for the past 5 years until his retirement last August. He had previously been the director of the town of Medway Department of Public Services for many years. Lee had been an active member of the Medway Lions Club and was a member of the Charles River Masonic Lodge of Medway.
Family was everything to Lee. In addition to his wife, he is survived by his son, Christopher Henry, and his wife, Martha, and his daughter, Anna Henry. He is also survived by his grandchildren, Jackson R. and Kathleen A. Henry.
In lieu of flowers, expressions of sympathy may be made in his memory to the Woonsocket Head Start Children's Development Association, Inc., 204 Warwick Street, Woonsocket, RI 02895.
John Richard Johnston, Jr. – – 2008
NU Wall of Honor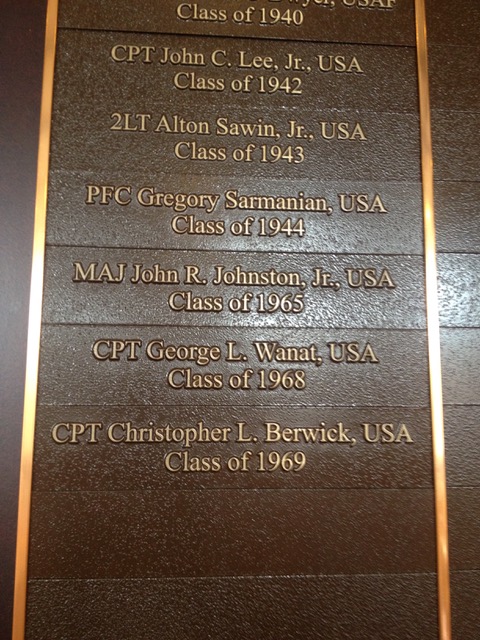 Distinguished Service Cross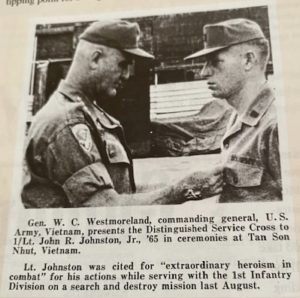 The President of the United States of America, authorized by Act of Congress, July 9, 1918 (amended by act of July 25, 1963), takes pleasure in presenting the Distinguished Service Cross to First Lieutenant (Armor) John R. Johnston, Jr. (ASN: 0-5023201), United States Army, for extraordinary heroism in connection with military operations involving conflict with an armed hostile force in the Republic of Vietnam, while serving with Troop C, 1st Squadron, 4th Cavalry, 1st Infantry Division. First Lieutenant Johnston distinguished himself by exceptionally valorous actions on 25 and 26 August 1966 while commanding an armored cavalry platoon during a search and destroy mission near Lai Khe. When an intense engagement erupted with a large Viet Cong unit, Lieutenant Johnston was ordered to reinforce another cavalry platoon which was vastly outnumbered. After leading his vehicles through the dense rain forest to the besieged unit, he immediately deployed his vehicles to bring maximum fire on the insurgent positions. As Lieutenant Johnston dauntlessly maneuvered the platoon, his armored vehicle was immobilized by two recoilless rifle hits, which wounded several crew members. He quickly administered aid to the casualties and directed their evacuation. Unable to establish communications with the rest of the platoon, he fearlessly ran thorough a hail of bullets and exploding mortar rounds to another armored vehicle. Discovering the radio inoperable, Lieutenant Johnston again ignored the extreme dangers and left the vehicle to direct the defense. Contemptuous of the devastating hostile fire which claimed casualties all around him, he darted among the tracks shouting orders and encouragement. When the enemy briefly broke contact, Lieutenant Johnston organized both platoons into a tenable perimeter. Moving around the area under sporadic sniper fire, he supervised the extraction of the wounded and redistributed supplies. Throughout the eighteen hours, his unimpeachable valor and dynamic leadership inspired his men to resist every hostile attack, finally forcing the insurgents to retreat into the jungle. First Lieutenant Johnston's extraordinary heroism and devotion to duty were in keeping with the highest traditions of the military service and reflect great credit upon himself, his unit, and the United States Army.
OBITUARY
Major John Richard Johnston, Jr. (US Army, Retired) of 109 Rocky Hill Road, Hadley, MA died peacefully on Wednesday, August 29, 2008 with his loving family by his side. He was the son of the late John R. Johnston and Nathalie Smith of Rowley, MA. He was a graduate of Newburyport High School in 1961 and Norwich University in 1965. While at Norwich, he trained to run the Boston Marathon and did so in 1965.
Upon graduation from Norwich he first deployed to Vietnam from May 1966 to May 1967. During that deployment he was awarded the Army's Distinguished Service Cross by General William Westmoreland (Commander US Forces Vietnam) for extraordinary heroism in combat while commanding an Armored Cavalry platoon. He served a second tour in Vietnam from June 1970 to June 1971, flying UH-1 "Huey" helicopters. Major Johnston later returned to Fort Knox, KY as an instructor at the US Army's Armor School. The remainder of his military career was stateside except for a tour at Camp Casey in Korea from 1980 to 1981. His other citations include the Bronze Star Medal, Air Medal, Army Commendation Medal, Army Achievement Medal, National Defense Service Medal, Vietnam Service Medal, Army Service Ribbon, Overseas Service Ribbon, and the Vietnam Campaign Medal. Major Johnston also won the Aircraft Crewman Badge and the Army Aviator Badge.
Upon retirement, Major Johnston loved to travel the United States and Canada, once going as far north as Newfoundland and Labrador. He like to take long, country walks, to read and to watch the Red Sox win. He possessed a generous spirit, a keen intellect and a great sense of fun and adventure.
He is survived by his wife, Katherine Marcia Bunke-Johnston, a son and daughter, Joseph (and Laura) of New Market, MD and Bonnie, of Frederick, MD; two step sons, Brett and Seth Bunke of Manchester, NH; three brothers, Jeffrey Johnston of Cotuit, MA, Jere and Lizabeth Johnston of West Hartford, CT, and Jaime and Veronica Johnston of Tubac, AZ; two sisters, Jill Johnston of Bradenton, FL and Joy and Larry Cahill of Newburyport, MA: three grandsons, Joseph Jr., and Troy Kent, Jr. of New Market, MD and Michael Buchanan Johnston of Frederick, MD, many, many nieces and nephews and his beloved cat, Jesse.
He will be laid to rest in Arlington National Cemetery on November 30, 2008 with full military honors befitting a national hero. Memorial contributions may be made to charities assisting Vietnam Veterans.
Edward J. Brooks
 
 
 

Edward J. Brooks, of Chili, N.Y., died August 17, 2007. Ed passed away after a long battle with cancer. While at Norwich, Ed was a member of Alpha Mu Pi, Tau Beta Pi, Epsilon Tau Sigma, Norwich Christian Fellowship and the Signal Honor Platoon. He graduated with a Bachelor of Science in Electrical Engineering. 

He is survived by his loving wife, Patricia; children, Margaret "Peggy" (John) Grimm, and John Brooks; grandchildren, Zane, Margaret "Meg", and Evan Grimm; mother, Margaret Brooks, Conklin, N.Y.; brother, Thomas (Carol) Brooks; and nephew, Charles Brooks, all of Mountain Grove, Mo. He was predeceased by his father, Freeman.
Thomas Sebastian McDavitt- – 2007
Harmon Wall Commemoration
Thomas Sebastian McDavitt or as he was affectionately known as "Mac," was a true Citizen-Soldier. Hailing from Dorchester, Mac graduated from BC High and attended Norwich University on a football scholarship. While at BC High Mac was voted  'Mr. BC' and later awarded St Ignatius Award, one of the highest awards given to a BC High Grad who has demonstrated commitment and "service to others" in their daily lives.
During his time at Norwich, 'Mac' participated in the Newman Club, Track, Varsity Club, Honor Committee and Football Team. He excelled at football and was elected co-captain his senior year. After graduation, he was even offered an opportunity to try out for the Green Bay Packers. He graduated with a BA in government and was commissioned a 2d Lieutenant-armor branch.  Throughout his time at Norwich, Mac was the type of individual one sought as a friend and was considered an all-around great-guy!
Tom served valiantly in the military. After his initial training at Ft Knox, Mac deployed
To Vietnam as member of the 4th Battalion, 23d Infantry. As a result of his courageous service, Mac was awarded the Bronze Star and the CIB-Combat Infantryman's Badge. 
On the Civilian side-Mac really walked the high road! He spent over 30 years in the Massachusetts Public School System as Teacher, Coach, and School Administrator at the
Middle School Level. He selflessly motivated, lead, cajoled, and mentored several generations of middle school age children throughout his teaching/coaching career. He could be found as an administrator jovially chatting with kids or as a teacher stressing the 'fun side of learning'.  He was also known for his TM's "Teachable Moments" (to empathize on a given topic), which coincidentally were his initials. Mac stressed much learning takes place outside the classroom as in any formal setting and we are all teachers
Really being judged by our words, actions and deeds.
Being a man of high moral character and deep religious faith, Mac was an ordained Deacon in his Roman Catholic Church parish assigned to parish work. He later requested assignment to work and serve the missions of Haiti by founding Diakonos, Inc. a non-profit organization to aid the missions and people of that country, the poorest country in our hemisphere. After many trips to Haiti and because of his strong passion for the people and his overwhelming conviction that education can change peoples' lives- Mac was instrumental in building 'College du Sacre Couer' (Sacred Heart School) in Jeremie, Haiti in the 1980's. For his Haitian efforts, Tom was awarded the United Nations Award from the Massachusetts Teachers Association. He also sponsored many a Good Fridays' walk-a-thons along the Cape Cod Canal in order to raise funds for the people of Haiti.
On the Personal Side- Mac married Sara Burroughs, the sister of John Burroughs, NU 65.
He has three children Tom, Erin and Brendan plus several grandchildren. 
Mac's life endeavors certainly are great achievements and are worthy of commemoration!
Dennis W. Valentine — — — November 2005
Dennis W. Valentine, 62, of Auburndale, passed away November 24, 2005. Den's passion in life was motorcycling, and he had been a Motorcycle Safety Instructor for some 21 years. He also enjoyed racquetball, computers and travel. He was a civil engineer and an Army Veteran of the Viet Nam War. He leaves behind family, many riding buddies and associates and his friend, Don La Forte. Internment will be at Florida National Cemetery at Bushnell. Plans for a memorial ride and a Celebration of Life will be announced. COLLISON CAREY HAND FUNERAL HOME, Winter Garden CHapel.
David J. Craig — — — August 2005
David J. Craig, 62, of Windsor, beloved husband of Joan M. (McGuiness) Craig died peacefully at home Thursday (August 11, 2005). Born February 6, 1943 in Los Angeles, CA, son of the late John and Frances (Keyes) Craig, he lived in West Hartford before moving to Windsor 25 years ago. He received his degree from Norwich University in VT and later received his MBA from the University of Hartford. For 20 years David was employed by Aetna Life & Casualty and was currently employed with St. Paul Travelers. He was very involved with the Windsor Hockey and Northern CT Hockey Associations where he was a coach and referee. He was a long time member of the Hartford Gun Club in East Granby and was an avid outdoorsman. Besides his wife, Joan, of 25 years, he is survived by two sons, James Craig and Michael Craig both of Windsor, his mother-in-law, Rita McGuiness of Newington, and predeceased by his father-in-law, Thomas McGuiness. He is also survived by two brothers-in-law, Barry McGuiness and his wife, Lisa of Cromwell, and Brian McGuiness and his wife, Dorothy of Colchester; four nieces and a nephew. A memorial service will be held Saturday, August 20 at 11 a.m. at Carmon Windsor Funeral Home, 807 Bloomfield Ave., Windsor. His family will receive friends prior to the service on Saturday from 10-11 a.m. at the funeral home. In lieu of flowers, memorial donations may be made to VNA Healthcare, 103 Woodland St., Hartford, CT 06105 or to the Helen and Harry Gray Cancer Center, Hartford Hospital, 80 Seymour St., Hartford, CT 06102.
To leave on-line condolences please visit www.carmonfuneralhome.com.
Anthony X. Morell — — — May 2005
Anthony X. Morell, formerly of Palm Beach, FL, Bronxville, NY, currently of Norwalk, CT, on May 8 at home. He was born April 22, 1943 in New Rochelle, NY, the son of Jane O'Neil Morell and Gaspar John Morell. On April 12, 1969, he married Ann Scripps in New York. She predeceased him in 1994. He was a 1961 graduate of Bronxville High School and was active in athletics and graduated from Norwich University in 1966. He served in the United States Army during the Vietnam War. He received the Vietnam Life Saving Medal and the Bronze Star Medal. Mr. Morell worked in Wall Street from 1970 to 1994 and then moved to Palm Beach, FL and began a career in Real Estate and later retired on Norwalk, CT. Anthony is survived by his daughters: Alexandra Morell and Anne Petrillo of Rye Brook, NY and his three grandchildren: Alexa, Michael and Tyler. Five siblings: Riba Shea of Bronxville, NY, MaryJane Haggerty of Rye, NY, Catherine Raddatz of Cooperstown, NY, Gaspar Morell of New York, NY, Mark Morell of Rye, NY and predeceased by George Morell (9/11/01) of Mt. Kisco, NY. Family will receive friends on Wednesday, May 11, 2005 from 2-4 pm and 7-9 pm at the Graham Funeral Home in Rye, NY. Funeral Service is 11 am on Thursday, May 12, 2005 at the Church of the Resurrection, Rye, NY. Interment is Private. GRAHAM FUNERAL HOME 1036 Boston Post Rd. Rye (914)967-0129
Published in the The Journal News on May 11, 2005
Richard M. Foley —— January 2005
Richard M. Foley of Medfield died Wednesday, Jan. 5, 2005. Mr. Foley was a former resident of Newton and Needham. He was a U.S. Army veteran of the Vietnam War. He had been employed as a project manager for the Gillette Co. prior to his retirement. Mr. Foley had also been the project manager of the First Years Co. in Avon. He leaves his wife, Evelyn H. (Hingston) Foley; his children, Allison Foley, Heather Foley and Ashley Foley, all of Medfield; his brothers, Donald M. Foley of Brunswick, Maine, and David A. Foley of Waltham; two aunts, Martha M. Carpenter of Rye Beach, N.H., and Lois Bryant of Brewster; two nephews; and one niece. He was the father of the late Keith Allan Foley. A funeral service was held Monday, Jan. 10, at St. Paul's Episcopal Church, Brookline. Burial was in Forest Hills Cemetery. Arrangements were made by the Bell-O'Dea Funeral Home, Brookline.
Matthew B. O'Keefe — — — March 2004
Matthew B. O'Keefe of Wakefield, Mar. 26. Husband of Beth (Taylor) O'Keefe. Son of Mary L. (Tecce) O'Keefe and the late Brendan T. O'Keefe. Father of Audrey Batista-Vieira and her husband Nivaldo of Lexington, Matthew B. Jr. and his wife Dayal of Ipswich, McKenzie P. O'Keefe of Wakefield and the late Caroline O'Keefe Kane. Brother of Patrick O'Keefe and his wife Patricia of Wakefield, Esther MacDonald and her husband Colin of Chelmsford, Michelle Theriault and her husband Allen of Wakefield and the late Brenda M. O'Keefe. Grandfather of Justin Kane, Gabriela and Raquel Batista-Vieira. Uncle of Kerry, Kaley and Colin MacDonald, Brendan, Conor and Kathleen O'Keefe, Amy and Shawn Theriault and the late Ryan Theriault. Former husband of Susan (Pica) O'Keefe of Wakefield. A Gravesside Service will be held at Forest Glade Cemetery, Lowell St., Wakefield, Wednesday at 11 AM. Relatives and friends may call at the McDonald Funeral Home, 19 Yale Ave., WAKEFIELD, Tuesday 2-4 and 7-9 PM. Memorial contributions may be made to the O'Keefe Family Fund, c/o Wakefield C.S.F., PO Box 321, Wakefield, MA 01880
Donald J. Perettie — — — January 2002
Dr. Donald J. Perettie, 59, passed away on Saturday, January 19th, 2002. He was a beloved husband and father. In remembrance of his hard work, generosity and 33 years of service to the fields of chemistry and advanced materials, he will be dearly missed.
Donald was born in New Hampshire and received his doctorate in 1968 from Rensselear Polytechnic Institute. He joined the Dow Chemical Company in 1968 where he worked as a scientist and technical director in the memory area since the early 1980's. Donald had a love for family, sailing, cooking, traveling and fine wine.
He is survived by his wife Sue, mother Clarisse, sister Elaine, daughter Deborah, son Donald and four grandchildren. He will be missed by all who knew him. Friends are invited to send donations to the All Stars Helping Kids Foundation. Arrangements are under the direction of DARLING-FISCHER FAMILY MORTUARIES, CHAPEL OF THE HILLS, Los Gatos.
Published in San Jose Mercury News on Jan. 25, 2002
David P. Eastwood — — — June 1992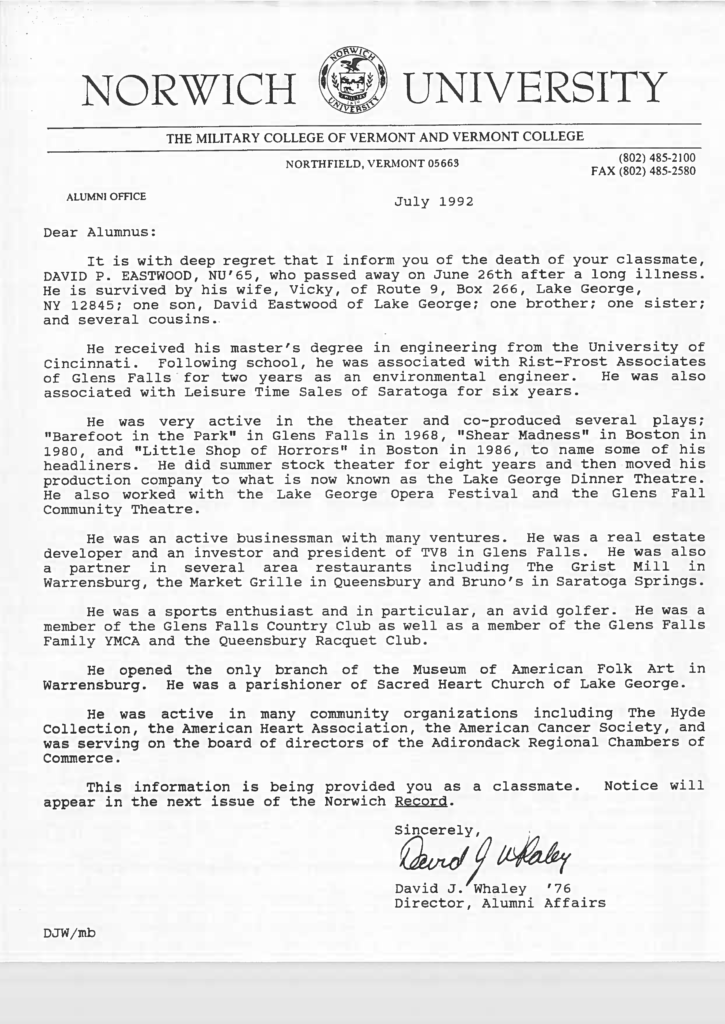 Arthurs I. Ginters — — — March 1970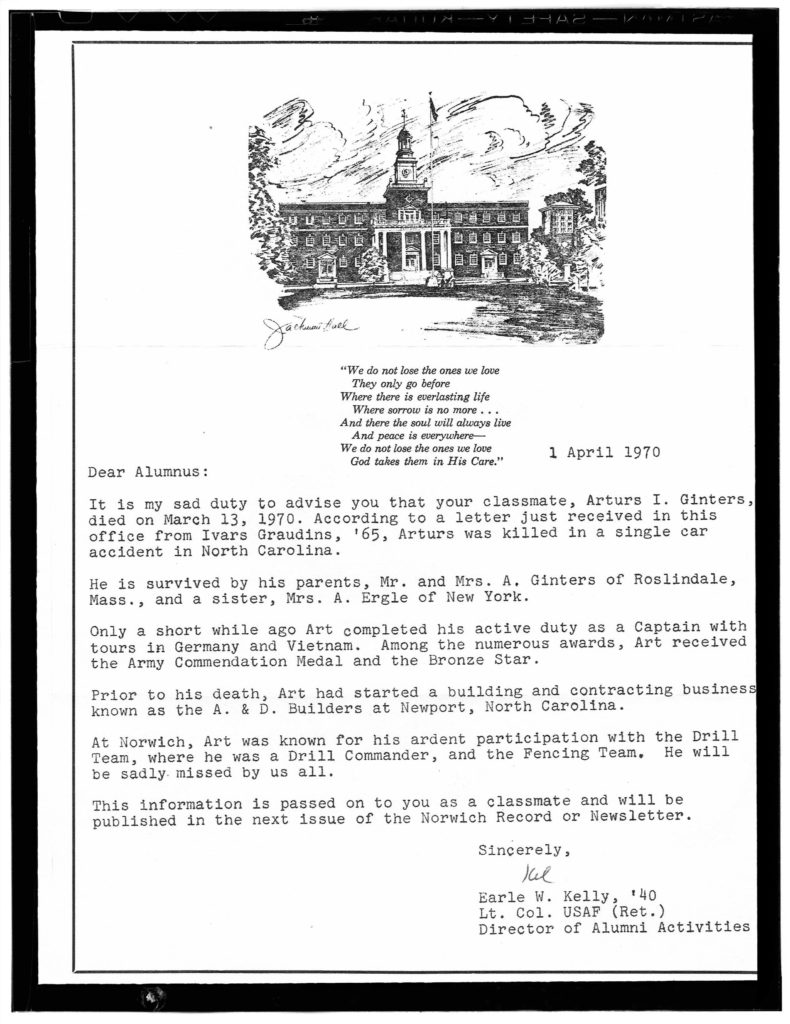 Harry E. Short, MD — — — September 1969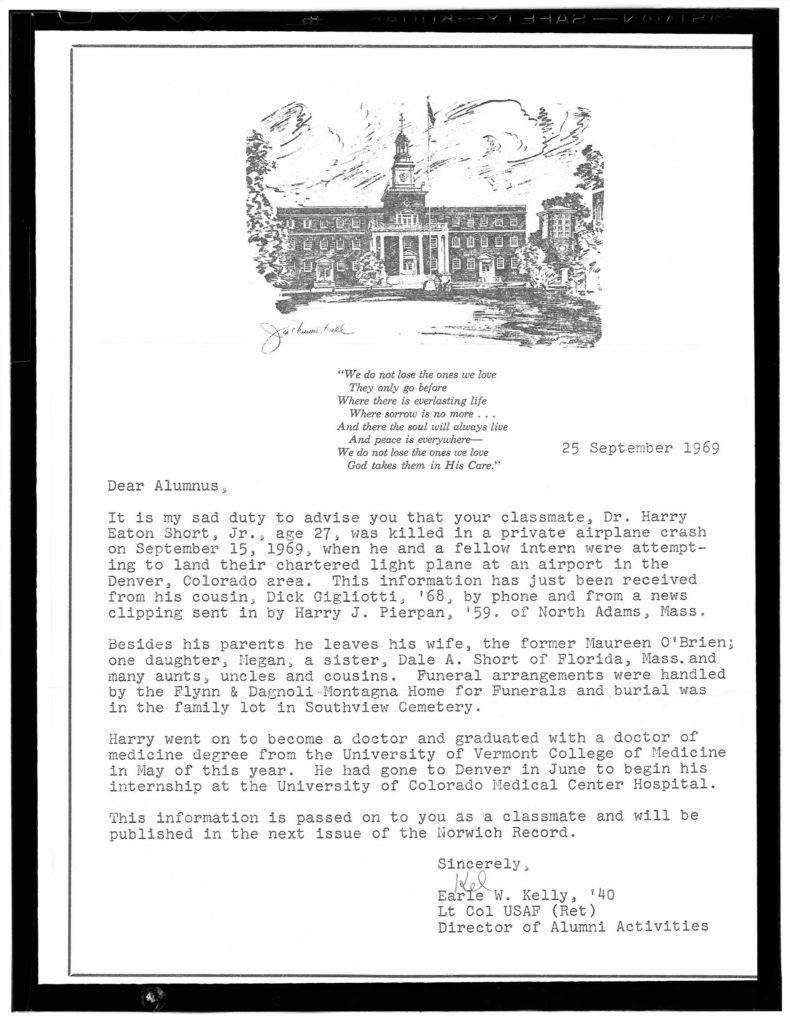 Frederic N. Cowperthwaite — — — December 1968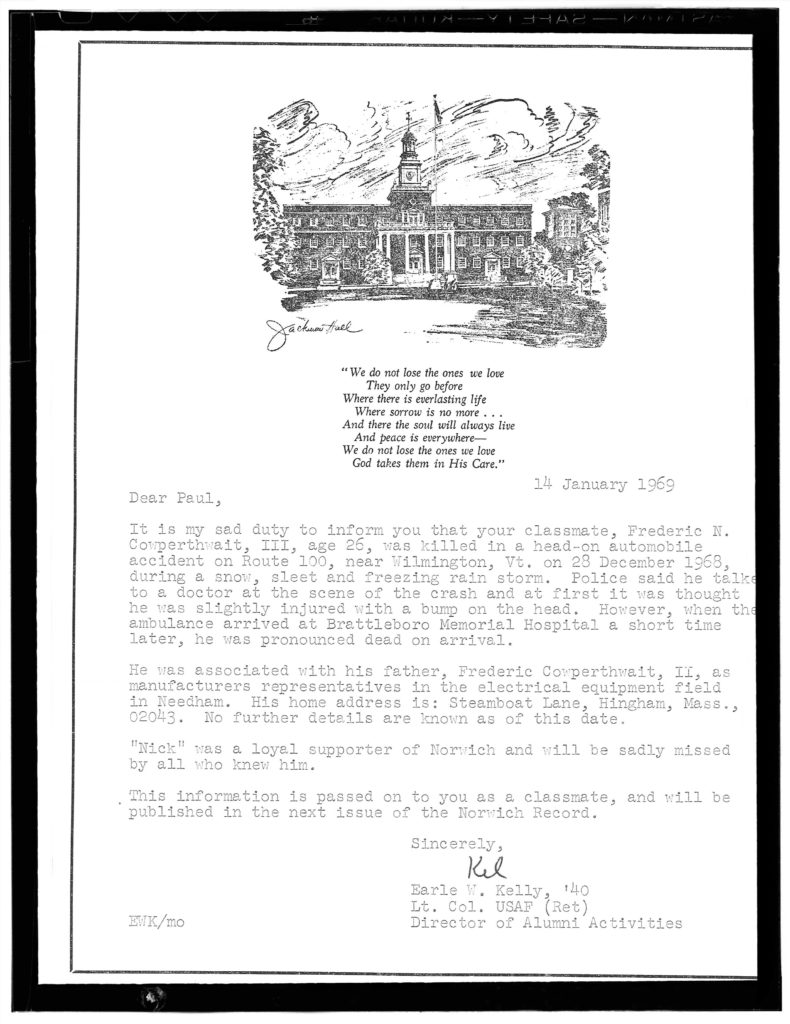 Richard P. Rand — — — 1966
https://army.togetherweserved.com/army/servlet/tws.webapp.WebApp?cmd=ShadowBoxProfile&type=Person&ID=65329&source=fold3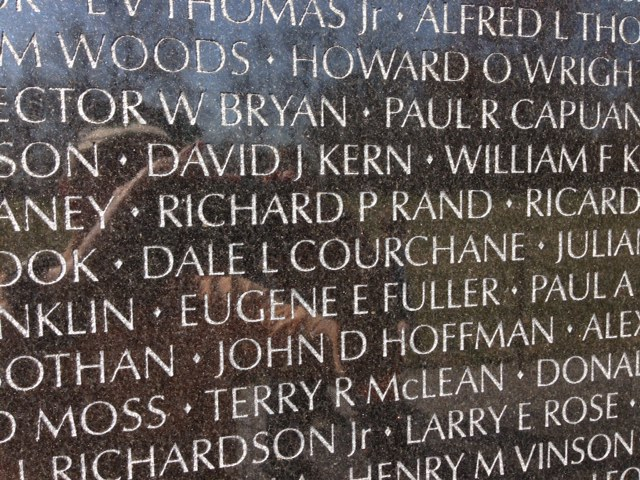 Classmates without obituaries
Brasor, John
Cannizzaro, Frank
Cattanach, John
D'Aleo, Richard
Dinnie, Douglas
Erban, Lawrence
Fane, Edward 2005
Fryer, Timothy
Gewehr, Arthur
Ginz, Thomas 2013
Hebert, Donald 2009
Johanson, Philip
Markham, Michael
Mayer, Peter
McCausland, Stanley
Phipps, L. MacGregor
Sempervive, Michael
Williams, Robert 2012
Wood, John
Other NU Grads who associated with the Class of 1965
Memoriam – – Thomas M. Curley – – May 5, 2017 
Thomas Michael "T-Bone" "T" Curley, a proud and much-loved Irishman, passed away peacefully at his home on the grounds of his beloved Thunder Road Speedbowl on Friday, May 5, 2017. He was 73.
Born on May 10, 1943 in Auburn, Maine, Tom's journey was the real life equivalent of a mesmerizing story. The second of two children of Richard and Bettie (Brown) Curley, the murder of his mother when he was just 3 and subsequent estrangement of his father, led to an upbringing by his maternal grandparents Stanley and Adria (Carville) Brown. Throughout his life, Tom's experiences in prep schools and his beloved summer sessions at Camp Moosehead provided camaraderie and adventure and developed an appreciation of risks and rewards which would guide his personal and professional life.
Tom's attention to detail and presentation were fostered early, and as a young boy, a bout with polio and an extended hospitalization exposed him to radio broadcasts of Red Sox baseball games, which remained a passion throughout his life. Painting a picture with words became an important theme in later endeavors. Trips to Fenway Park were a summer highlight, and tumbling into the back of a pick-up with neighborhood friends to travel to Oxford Plains Speedway introduced him to stock car racing and its intoxicating excitement. His first destination as a newly-licensed 15-year old was Beech Ridge Motor Speedway in Scarborough, Maine. As a young cadet sequestered on campus at Norwich University, radio broadcasts introduced him to Thunder Road and its founder and the voice on those broadcasts, Ken Squier, who would later become his long-time partner in some business ventures. Inspired to field a race team with friends and fellow students, Tom soon earned his nick-name, "T-Bone". Always willing to adjust, Tom realized that driving stock cars wasn't his strong suit, but gave him insight which proved invaluable in later years.
Tom was a 1966 graduate of Norwich University, a military school which provided Tom with his infamous embrace of structure, timing, attention to detail, and respect of tradition and pageantry. Like his adored grandfather, Tom embraced an unwavering work ethic and was never willing to ask for more effort than he was willing to make himself. With his positive attitude, every experience in life provided him with a reward, and during his year-long expulsion from college for organizing a panty raid, he spent time in New York City developing his appreciation for dining, theatre and his beloved opera music.
Throughout his career Tom's many business ventures were under his constant analyzation and reinvention, always applying lessons learned to the benefit of participants and patrons. Following a brief, but important stint teaching at the high school level, he embarked on a career in business that gave his incredible life force free rein. A natural leader, Tom's enthusiasm for the project at hand led to the conception and nurturing of several successful entrepreneurial ventures, including a pub in New Hampshire, followed by a locally famous steakhouse and Dixieland Jazz club with his friend Ken Squier — "T-Bone's" on Mallett's Bay in Vermont and sister location on the North Turn of the original beach track in Daytona Beach, Florida. Always up for the next challenge, various businesses later included a trading stamp enterprise in the North- and Southeast, and a marina and campground in the Champlain Islands of Vermont.
Tom's life's work came into focus when he agreed to again partner with his friend Squier. In 1978 Tom took over management of Catamount Stadium in Milton, Vermont, and in 1979 became the Director for the newly formed NASCAR North Tour. Designing and fostering the organized travelling show, he set a standard for the new era of touring series across the country, and was a constant source of information and advice to others. Following a disagreement with NASCAR and their subsequent withdrawal from the Northeast, impassioned pleas came from several of his drivers which convinced him to found the American Canadian Tour — ACT–, continuing with the philosophies that he had employed to bring his NASCAR North Tour to its national prominence.
Tom's ability to identify and address issues in real time was one of his many strengths. Working in the off-season for various television enterprises, he was very proud to have been the man in the truck, choosing the shots on the first-ever live flag-to-flag broadcast of the Daytona 500. While tv crews familiar with the Superbowl and golf broadcasts focused in on a Richard Petty checkered flag, it was Tom in the truck with multiple monitors who directed the cameras to catch the action he anticipated on the backstretch. Familiar with the characters and flavor of racing, it was Tom's savvy that provided race fans with the infamous fight scene involving Cale Yarborough and the Allisons, which thrilled fans and broadcasters, and remains an iconic clip in racing archives.
Tom continued to shepherd tracks throughout the Northeast and Quebec directly, and across the U.S. and Canada indirectly, during his nearly 40-year career in short track stock car racing. His unique skill set resulted in organizing, promoting, and presenting stock car events in innovative ways and provided him with industry-wide respect and recognition throughout the U.S. and Canada. His infamous Irish temper, limitless energy, thirst for innovation and unequalled visionary talents made Tom a sought-after adviser, confidante, partner, competitor, cheerleader and critic for track owners and series organizers for decades. His charm and dedication to the value of his product took him successfully through some of the biggest boardrooms in Canada, with resulting sponsorship entitlements the reward for his efforts.
Tom's sense of fair play demanded his development of new approaches to rules, event structure, and competition. Providing a "level playing field" was important for participants, with the biggest goal to provide race fans with the best entertainment, and the best value possible. His knowledge and "feel" for race tracks led him to head renovation projects at his own and other facilities, and to consult on construction and reconstruction of several tracks in the U.S. and Canada. From his experiences listening to sports on radio he appreciated the importance of character and characters in his racers, and encouraged respectful but passionate competition, and he spent countless hours of discussion, encouragement, critique, and philosophy mentoring many announcers and reporters. His hellfire and brimstone pit meetings prior to each race are legendary in the industry, and drivers and teams often enjoyed Tom's demonstrations with toy car props to illustrate the dos and don'ts of racing etiquette. His ability to impart lessons contained in a well-crafted, succinct speech with equal parts instruction and inspiration have guided and polished thousands of racers, and racing enthusiasts. His passion was infectious and the responsibility and reverence he felt for the sport of racing was absorbed by spell-bound attendees. His joy for racers' accomplishments was genuine, and his caring and encouragement of young racers was so important to him.
Tom was humbled and proud of the many accolades he received for his dedication to motorsports, among them: 1991 Winner Don MacTavish Award, 1992 Trackside Magazine Promoter of the Year, 3-time RPM Northeast Promoter of the Year, 2003 Lowe's Motor Speedway Short Track Promoter of the Year, 2004 RPM North American Promoter of the Year, 2009 New England Motorsports Hall of Fame Inductee, 2014 Vermont Sports Hall of Fame Inductee, 2015 Eastern Motorsports Press Association Hall of Fame Inductee, 2017 Maine Motorsports Association Hall of Fame Inductee. As a native son, inclusion in the Maine Motorsports Hall of Fame was especially sweet, and as his health prevented him from accepting the honor in person, he asked to share his appreciation with the gathered celebrants: "It has been a great ride and I am glad I had the opportunity to spend my life contributing to what I loved".
The most recent honor bestowed on Tom came to him on the morning of his unexpected passing. During his youth in Maine, Tom loved to sail, and was an accomplished sailing competitor. During summer breaks from Norwich, he used those talents to teach sailing on Malletts Bay. He was ever proud of "his kids" – the young boys and girls who he taught to sail and coached in competitions, resulting in life-long friendships with many of them and their families. With the building of the Community Sailing Center on the Waterfront in Burlington, "his kids" gathered to recognize the impact of his sailing and life lessons, and the "T Curley Observation Deck" overlooking Lake Champlain will be dedicated in his honor later this year.
Tom's love of adventure and travel, reverence for tradition and heritage, compassion, honesty, and loyalty, and appreciation of hard work, allowed him to enjoy a very full and satisfying life. He was proud of his accomplishments, treasured special relationships with friends and colleagues gathered over a lifetime, and he was content that racers and race fans always enjoyed the very best experience he could provide. With the fast pace of his business life, he was happiest on his deck in Maine, reclining in the sun, with a good Red Sox game on the radio. A diagnosis of COPD several years ago was met with characteristic resolve and dignity, and Tom remained in charge, in spite of each new challenge.
Tom leaves behind his adoring and dedicated partner of many years, Darla Ripley Hartt of Waterbury Center, Vermont and Scarborough, Maine; his children Cait (Curley) Lynch & husband Derek with granddaughter Lila of Warwick, Ontario; his son Seamus M. Curley & wife Jennifer, with grandsons James, George, Kevan, Cyle, and Glenn of Underhill, VT; his very special sister Susan (Curley) Maher & husband Peter of Stratham, NH, and several nephews & nieces. Tom enjoyed many special times with his nephew Peter Maher, and nieces Merrill & Grace Woodruff, and Liliana Conoscenti, as well as Darla's extended family, who held a special place in his heart. Tom's sense of family also included many of the wonderful people he worked with over the years, to whom he was as devoted, and were as devoted to him, as any blood relative. His love of dogs–with a special place in his heart for German Shepherds–provided him with much joy and comfort throughout his life.
Tom's life was guided by a quote familiar to many who heard him speak at banquets and special events over the years. Delivered by Bobby Kennedy at his brother's funeral, Tom embraced and exemplified these favorite words:
"Some men see things as they are and say why, I dream things that never were and say, why not?"
In accordance with his wishes, there will be no formal services, but his ashes will be returned to his beloved Higgins Beach in Scarborough, Maine–his very favorite place–where he was comforted to know he would travel with the tides, returning each day to the seawall of the home he shared with Darla, with the occasional trip to his ancestral homeland of Ireland.
In lieu of flowers, those wishing to may make donations to the Lake Champlain Community Sailing Center, P.O. Box 64818, Burlington, Vermont 05406. http://communitysailingcenter.org
Stephen D. Carr – – – August 1970
Began his NU education with our class.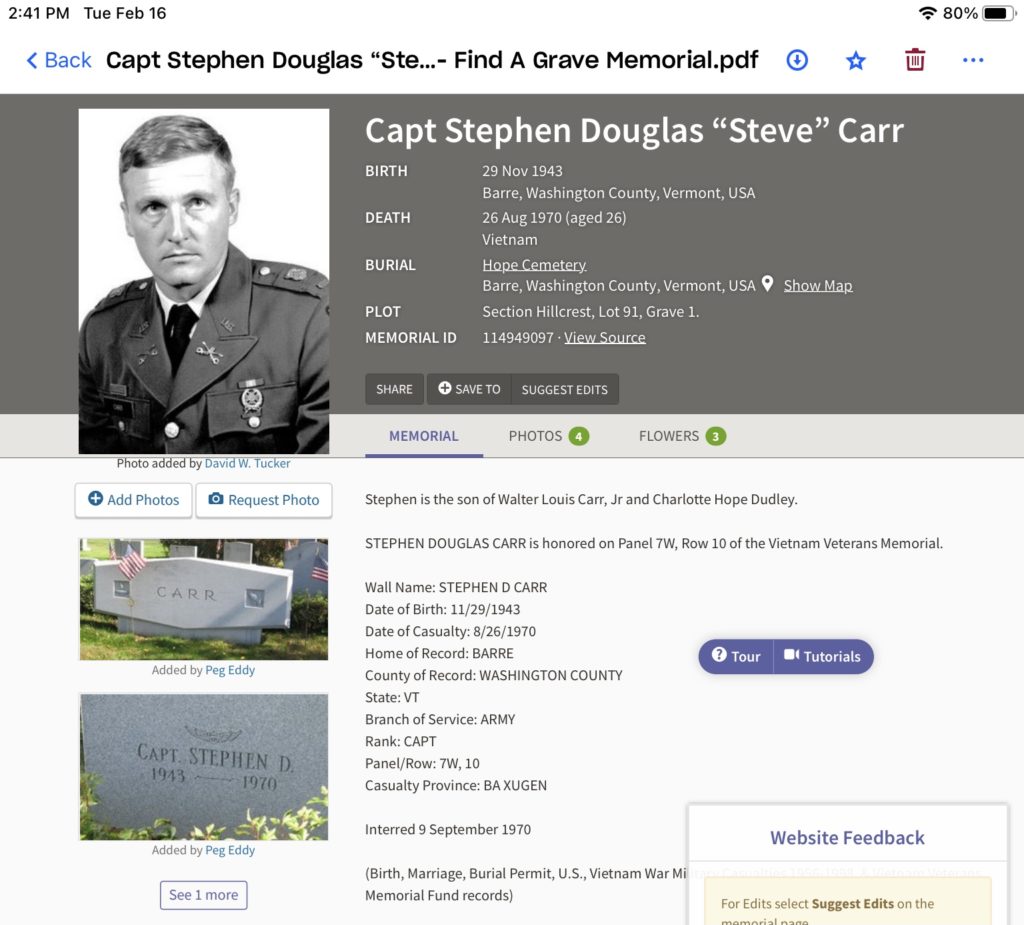 Please follow and like us: